Stella
Added Mar 18, 2007
By burdastyle
New York, New Yo...

Step 9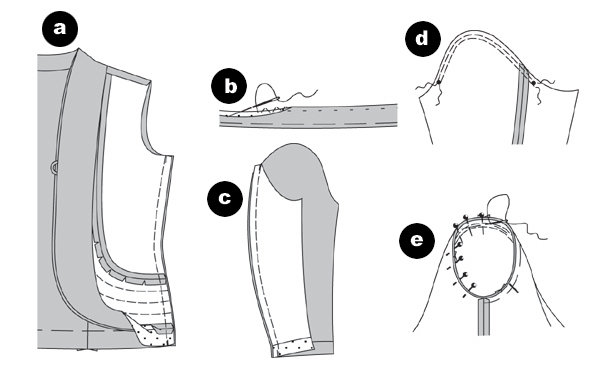 Side Seams
Lay facing at side edges downward, press allowances open. Lay fronts on back, right side facing in. Baste side seams (seam number 6), match facing seam with hemline in back. Stitch. Press seam allowances open. (a)
Turn facing and hem to inside, baste and press. Stitch hem loosely by hand. (b)
Sleeves
Lay undersleeve piece right sides together with top sleeve piece. Baste back seam (seam number 7) and stitch. Press seam allowances open. ©
To ease tops of sleeves, stitch two closely spaced lines of machine basting (longest stitch setting) from _ to _. Fold sleeves lengthwise, right side facing in. Stitch front sleeve seams (seam number 8). Press seam allowances open. Stitch sleeve hem. (d)
Setting in sleeves
To ease tops of sleeves, pull bobbin threads slightly.
Pin sleeve into armhole, right sides facing. When setting in sleeves, 4 points are important for proper fit:
_ Match markings 9 on upper sleeve and front. Match marking on undersleeve with side seam. Match marking at top of sleeve with shoulder seam. (e)
Distribute fullness evenly between the _'s to avoid forming tucks. Baste and stitch sleeve from sleeve side.
Press seam allowances into sleeves. Try on jacket. Insert SHOULDER PADS, pin in place and sew on at seam allowances of shoulder seams.
0 Comments on Step 9
Patterns for this Project
Produced by BurdaStyle