Stella
Added Mar 18, 2007
By burdastyle
New York, New Yo...

Step 6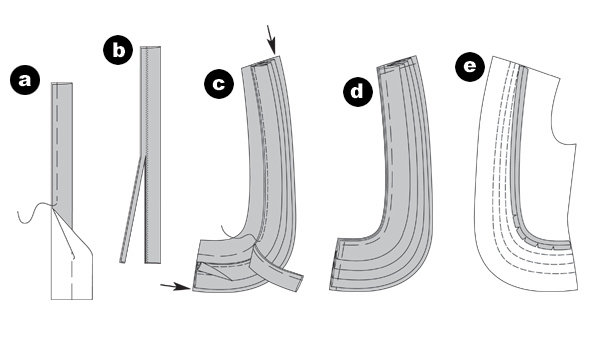 JACKET
Bands / Organza
Fold bands on FOLD LINE, wrong side facing in. Press. Baste open edges together. Trim allowances on six bands for a finished width of 1 5⁄8" (4 cm). Neaten edges together.(a)
Tip: If you do not have a serger, zigzag stitch the open edges together 5⁄8" (1.5 cm) wide. Then trim allowances close to stitching (b).
Please note: The given pattern piece is for the longest (outer) band. Trim the others to the required length.
Baste three bands each on fronts at joining lines, beginning on the outer line. Ease in band slightly along the curve. Press fold edge to shape, stretching slightly. Allowance at front edges overhangs (arrows). ©
Baste the fourth band on each side edge. Baste short edges on allowances shoulder seams and side seams. (d)
Panel Seams
Lay side fronts right sides together with center fronts. Baste panel seams (seam number 1) and stitch. Stitch back panel seams likewise (seam number 3). Trim allowances of seams, clip curves and press open. (e)
0 Comments on Step 6
Patterns for this Project
Produced by BurdaStyle