Starring Stripes
Added Jun 17, 2012
London, United K...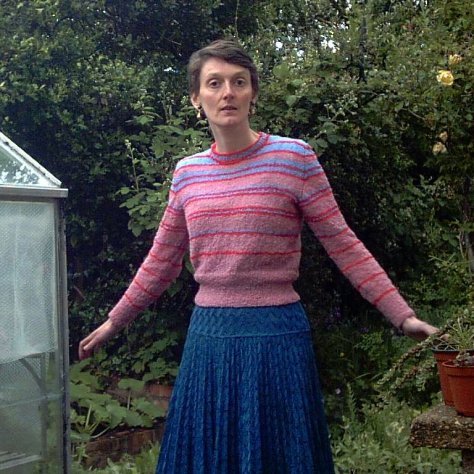 ShareThis
Description
This started off as a 'simple' stocking-stitch jumper to use up some scraps of very lightweight bouclé yarn – I thought if I put all the three different colours together I would have just enough to make this 1930s design, although I should have to rearrange the stripes a bit to work in three colours rather than two, and with a pale body colour rather than a dark one.
In the event, it turned out that not only was the wool very difficult to work with (I ended up using stitch markers every 10 stitches all the way up the entire garment – in stocking stitch! – simply because a stitch once dropped was almost impossible to find again) but that I ended up basically redesigning the pattern from scratch.
I had to redesign the stripes because I couldn't match both the horizontal and vertical tension of the pattern as given – I got nine rows to the inch rather then eight – then I had to correct an error in the neck shaping which put the neck opening over to one side, and which had lurked there unsuspected since 1938 (did anybody ever try to knit up this jumper at the time, I wonder?) Then I discovered both that the sleeves were far too wide and that I didn't have enough wool to finish the pattern: I had to design a sleeve two inches narrower above the elbow while fitting into the same armhole. This enabled me to finish the second sleeve with literally just a handful of pink wool remaining. At this point I discovered that there weren't proper instructions for the collar (as in, how many stitches ought to be knitted up for it for example…)
The entire jumper weighs just under four and a half ounces when complete. It doesn't quite match the pattern picture because the lady in the pattern is a size larger than I am and because the wool I used was so lightweight that it doesn't grip tightly around the hips as shown; otherwise, I think it's a pretty good imitation.
And of course it's perfect for English summer weather (especially this year): We want gay clothes to wear on dullish days, so I know you'll like this smart jumper, promises the pattern!
Material Notes
About 4.5 oz of scraps of fine boucle wool in three different colours, brand unknown
Difficulty
Intermediate
Categories