Star Bright - a simple cape
Added Jul 30, 2009
by Kalile
Las Vegas, Nevad...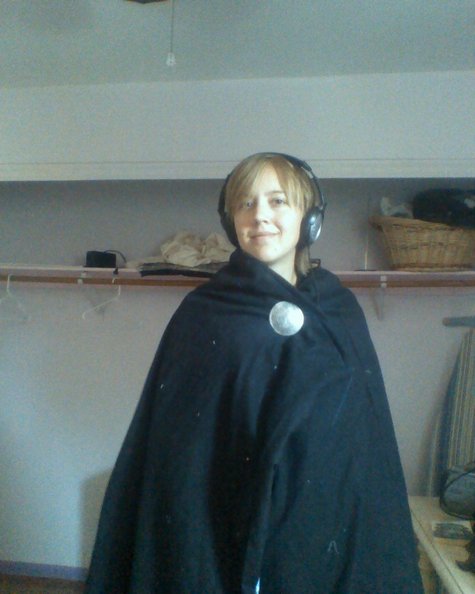 ShareThis
Description
I have lived in the desert for most of my life, before suddenly going to school where it snows. I'm not ashamed to say that I am a wimp, and am always looking for an extra layer. Plus, I've wanted to wear a cloak since forever, but hated the crushed velvet and polyester monstrosities that the goth kids wore in high school. Nothing against high school goth kids in general, of course.
I made this cloak last year, but a layer of batting turned the cloak into a cumbersome quilt-ish mistake. It's plenty warm without the batting anyway, and quite water resistant. It has a pocket up near the top for a cell phone or MP3 player, and a pocket around waist level that can hold a small paperback and book light (I like to walk and read simultaneously). It falls to my knees, this keeping it out of the way and above most sidewalk snowfall. It is also machine washable, and the sturdy black cotton is ok for use as a blanket – perfect for someone who tends to plop down on the grass and read. I've always wanted a cloak with a crazy patchwork lining, but am too lazy to actually make one. So when I ran across fabric that had once been intended as the backing of my baby quilt, I used it. I would have rather used brown for the outside, but black was on hand. I kind of like it anyway, it's dramatic and night sky-ish.
So in other words, I have a cloak that is sturdy, practical and very useful. And also it's a cloak, which satisfies the inner geek wearing the ridiculous hat. Which I still don't wear often. Really! Hah hah.
Eventually I'll add a couple of snap fastenings so that the cloak pin isn't necessary. It's pretty awesome, though, no? I've had it forever, and don't get to wear it nearly often enough.
Material Notes
Cotton cloth
Difficulty
Novice
Categories
Credits
My mom, for letting me use the baby quilt backing

My grandfather for the cloak pin
0 Comments