Stained Glass Tunic
Added Nov 11, 2012
London, United K...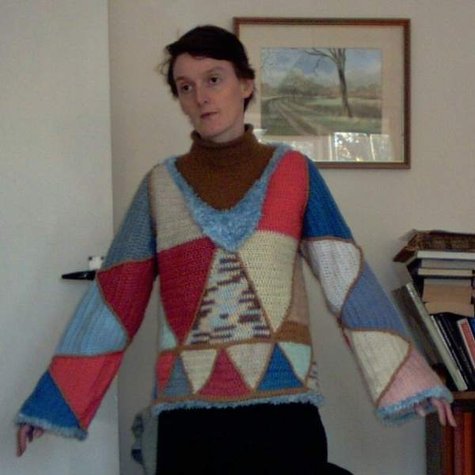 ShareThis
Description
This was the third crochet project I made, and it was based on a pattern in a 1980s book that I got out of the local library. By this point I didn't have enough wool in any one colour left to make a complete garment, so it was an exercise in using up scraps: this pattern was perfect.
The original garment consisted simply of a set of large crochet triangles assembled to create a square sweater: four were joined into diamonds, two at the front and two at the back, one was placed point-upwards at the centre waist and one under each arm, and one was used to fill in the gap between the tops of the diamonds at the back of the neck, leaving the centre front triangle as a neck opening. More triangles were joined into diamonds and tesselated first one way up then the other as sleeves.
Then the various diamonds and triangles were attached together using a corded edging in a single colour to create the 'stained-glass' effect.
However the resulting sweater barely reached my waist, so I added an extra diamond to the sleeve and improvised a further row of half-size triangles to extend the sweater into a tunic. This turned out to be a vast improvement. The boxy 1980s sweater became a rather stylish hip-length flared garment: I then bought some novelty yarn to work the jabot, cuffs and edging as directed in the original pattern.
The one decision I'm not sure about was my choice to showcase the triangle made using the novelty colour-change yarn in the centre front. I thought it was the bee's knees at the time!
Material Notes
Lots of assorted acrylic scraps – mostly double-knitting weight, but with a few thicker ones. Fancy eyelash yarn for the trimming.
Difficulty
Novice
Categories