SPRING JACKET FOR A LITTLE PRINCESS
Added Feb 17, 2016
by Mirei71
***, Switzerland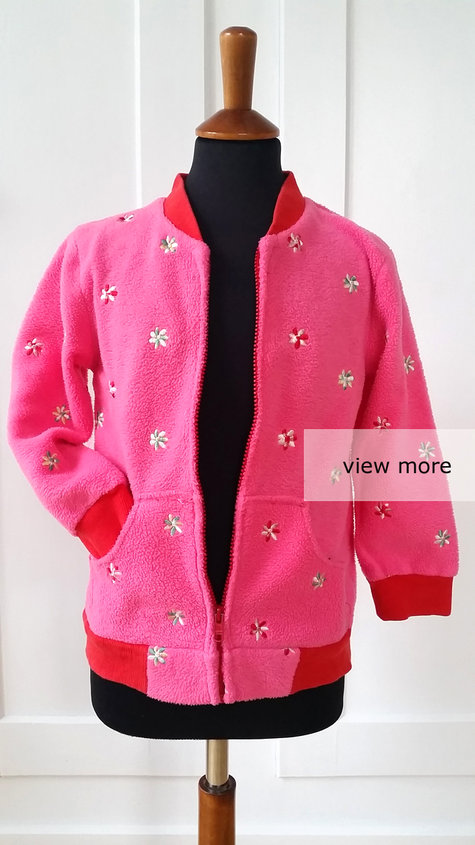 ShareThis
Description
I'm gonna give it all up and become a princess…
I have seen this sentence in a home decoration and fashion magazine lately. For a short Moment it sounded very flattering to me. As a 44 year old mother of two, housewife, wife, parttime employee, homeowner, pupil, passionate sewer-seamstress to be and blogger, I often can't distingue up from down. In such moments where dirty laundry, homework and sick kids are going in circles, it's absolutely understandable that you're thinking of throwing in the towel and become a princess. But, how am I going to do this? Become a princess? And before I even get to the end of the thought I'm on the run again. But let's be honest: I love all this things that keep me so busy (yes I like doing householding) the problem about it is time. I wish I had the time to do all these things much slower, with more passion and devotion. When I am sewing I force myself to slowness… not so with other things unfortunately… anyway… lately I have posted a self made quote on my Instagram account "If I could buy sewing time I'd be completely bankrupt by now"… You can sneak a peek on my Instagram account at the right banner in my blog, that's new!
I have sewed this child jacket a couple of years ago for my little princess, when I was allowed to call her so. Today she's almost taller than me, does not want to be called little princess anymore (understandable, although for me she still is!) and she loves to act as the photographer for my post shootings. I got the pattern for the jacket from Burda and the fabric, once more, from my absolute favourite fabric store in town Stoffart. You can find all the links at the bottom of the photos in my blog. This spring jacket suits little girls very well and fits well into Easter time and the first spring flowers. You can match it with a jeans skirt and leggings or simply with jeans. It's just a comfortable, cozy allrounder. Unfortunately you don't see the loop at the back of the neck for hanging the jacket. I have done it with crochet by hand and stiched it on.
You guys, I hope you like this post! I wish you all the time, the commitment, the devotion and creativity you need and I am looking forward to your next visit on www.mirei71.ch . Thanks for dropping by. See you in my next post. Bye!!
Material Notes
Fleece
Cotton
Zipper
Difficulty
Intermediate
Categories