Simza (Sherlock Holmes: A Game of Shadows) Gypsy Fortunetell...
Added Jan 27, 2014
Pascagoula, Miss...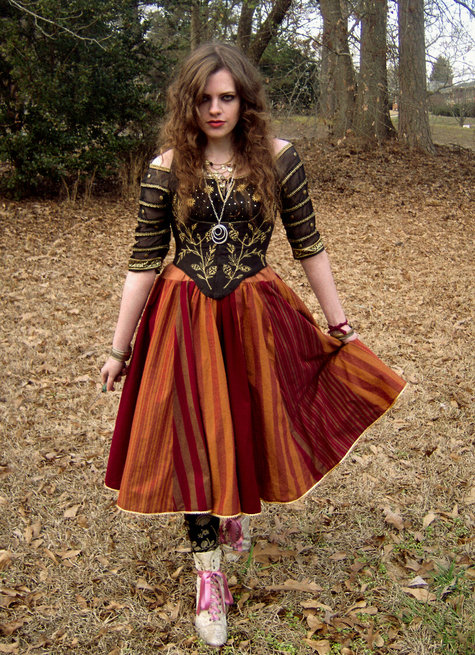 ShareThis
Description
Sherlock Holmes: A Game of Shadows is probably my favorite movie, and I knew I had to honor it with my Halloween costume 2013. It took me a while to decide whether to dress up as Noomi Rapace's gypsy Simza Heron, or Robert Downey Jr.'s Sherlock Holmes. …I decided on Sim because of her gorgeous Fortuneteller costume, but I'm pretty sure I'm going to be Sherlock next time.
I planned this costume for 8 months prior to making it, during which time I scoured the internet for the right materials. The costume consists of three pieces – a Corset top, a Striped Skirt & an Under-dress.
I made the under-dress first, using the Vintage pattern Butterick 5944, which really ended up being a perfect choice for it. The shape was already perfect. The only alterations I made were adding gussets under the arms (for movement — I got the idea from the real costume in the movie), shortening the yellow under-skirt pieces a bit, widening the "V" in the neckline, and lowering the neck a little. I did disregard the pattern instructions, however — and constructed the under-dress my own way.
The sleeve gussets were easy to add, because I have used them in several other costumes over the last few years.
The sleeves themselves were very time-consuming because of the slipperiness of the black chiffon. I had to individually sew the black velvet ribbon stripes across the sleeve pieces, which was a little challenging. LOTS of pinning went on. The gold loopy trim is sewn on top of the velvet ribbon stripes. The little gold circles are metal jewelry findings that I sewed on by hand.
On the bodice, I used little metallic sunburst iron-on appliques. The tiny little gold sequins are hand-stitched on to the fabric.
The under-dress closes in the back with a dark maroon zipper which I had in my stash, and a hook & eye at the top.
The corset was made from Butterick 4254, View C. I COMPLETELY changed the pattern pretty much. I dropped the front bust line, added straps, brought up the waistline and pointed it in the front, and changed the back to be solid instead of open/laced-up. I boned the entire corset and fully lined it too.
Before I put it together, I eyeballed and hand-drew the vine design on the shell pieces; then I took it to my sewing machine and used some embroidery stitches free-hand to create the gold metallic thread design. It took a really long time, because my sewing machine isn't an embroidery machine… I basically just traced the drawing with machine stitches little by little.
The corset closes in the front with hook & eye tape and three black snaps to keep the front tab down.
The Skirt was by far the easiest part. I used Simplicity 5359. I am wearing a purchased organza petticoat under it in the pictures, to add body.
Alterations: folded the godet-shaped skirt pieces in half so I could use 3 contrasting fabrics instead of 2. I also extended the waistband section, and used elastic instead of a zipper closure — mostly because I didn't have time for anything else.
I was originally only going to use just the Gold-Brown Stripe Fabric & the Crimson Solid for the skirt, but I found a 1 yard piece of coordinating Crimson-Brown Striped Fabric in my stash and knew I HAD to include it. But because I did that, I had a problem — I needed to cut 4 sections of each contrast fabric, and I only had a yard of the Crimson-Brown Stripe. The solution? Insane piecing. I cut as many normal pieces as I could (2), then I sewed together the rest of the scraps and cut out the other 2 pieces. In my 9th picture, you can see the crazy seams! I felt it was justified, because it was a gypsy-skirt after all.
I'll admit it's not my best sewing… but I had to make do.
Just a few more quick notes on the overall costume: I did a lot of non-sewing customizing on my props and jewelry too!
Notably, the throwing-knife. I bought a plain black-handle prop knife at the Party City, and hand-painted/aged it with acrylic paint. Then I sprayed on clear sealant and pounded some scrap-booking metal studs in to the handle. It looks just like Sim's from the movie.
The earrings were also made by me. One circle-shaped and one diamond-shaped, just like Sim's. The diamond-shaped dangle earring is made with the exact same finding as the one in the film! I was so excited to find it available on the web.
I also added mauve ribbon-lacings to some vintage Victorian-style brocade boots.
The necklaces I bought and customized with additional jewelry findings I bought.
I LOVE how this turned out. I think it's the best movie-costume reproduction I've ever done. It was such fun to get my Gypsy on Halloween night!
Material Notes
UNDER-DRESS: Black Woven Fabric, Black Chiffon, Two Pieces of Gold-tone Fabric, Crimson Red Cotton Lining, Black 5/8" Velvet Ribbon, Dark Gold 1/2" Looped Gimp Trim, 1" Black & Gold Metallic Scroll Jacquard Trim, Black Twisted 1/16" Cord, Black Single-Fold Bias Tape, Dark Gold Metal Circle Drops, Gold 1/8" Sequins, 6 Gold Metallic Iron-On Sunburst Appliques, Gold Metallic Embroidery Thread.
CORSET: Black Cotton Fabric, Duck Canvas (Interlining), 1/4" Featherlight Boning, Gold Metallic Embroidery Thread, Hook & Eye Tape, 3 Black 1/2" Snaps, Fabric Pencil.
SKIRT: Golden-Brown Striped Fabric, Crimson-Brown Striped Fabric, Crimson Solid Cotton, Gold-Tan Solid Cotton, Black Single-fold Bias Tape, Metallic 1/4" Gold Gimp Trim, 7/8" Wide Elastic.
Difficulty
Expert
Categories
For

Garment Type

Style

Material
Credits
Photographer

Allison May
May 11, 2018, 02.43 PMby Sidera

Jan 27, 2014, 09.08 PMby Mauude