Shirt of Smoke
Added Aug 12, 2011
by Lisette O
West Orange, New...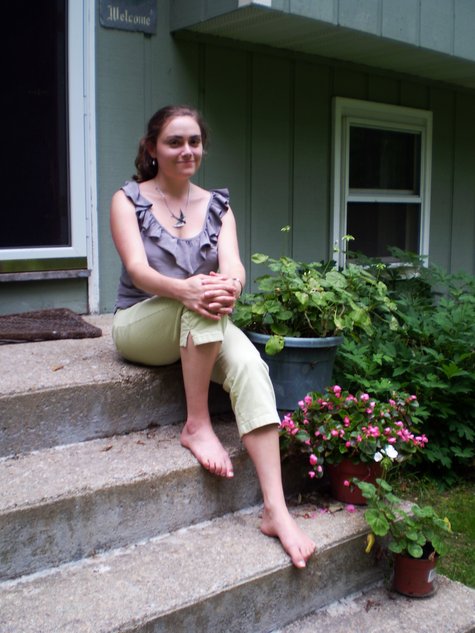 ShareThis
Description
Pattern: New Look 6895 ($2.99?)
Fabric: The burn test I did points to 100% polyester, but it feels like silk. It weighs nothing and I could probably crumple it up into one fist, sizewise. It is sheer-ish in the light. My sister described it as "like wearing a shirt made of smoke". ($3.98)
Notions: One hook and eye.
Time: Too much. Probably between 10 and 15 hours.
Pros: It really is lovely to wear and the fabric, once in a completed garment, is amazing! It goes well with a lot of other things I own. I also could do French seams, which saved me some hand-sewing.
Cons: The fabric was a nightmare to sew. Slippery, fraying and I was terrified I would burn it (the burn test resulted in a knob of plastic). The neckline is WAY to low and therefore the flounce couldn't gather as much. This was because they wrote the pattern so that you would be adjusting the neckline to the length of a bias strip, included in the pattern pieces. Dumb! Rather than measure by that, I adjusted it on myself. It later un-gathered itself in the process of being sewed.
The flounce was its own house of horrors. First I tried to use my 1/4" hem foot to hem the edge. No go, it was all sorts of wonky. Then I tried doing it by hand. Wrong again! I ended up cutting out two more and just sewing them together and turning them inside out. This worked OK, except that the grain must have been different on the second one because when I gathered it they gathered wildly differently. One had teensy little gathers, the other big ugly gnarly gathers.
Did I mention the flounce has a gap in the middle and they meet about 3/4" off center!?
Also, all that bias binding meant hours of hand sewing.
Material Notes
polyester
Difficulty
Intermediate
Categories