Shari
Added Oct 8, 2007
By burdastyle
New York, New Yo...

Step 7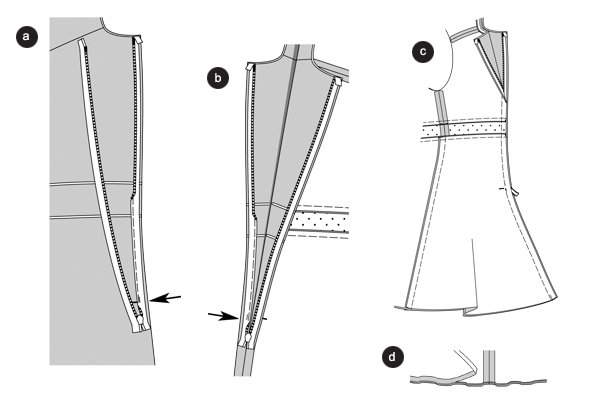 SKIRT / front center seam
Position front skirt panels with the right sides facing, baste center seam and stitch. Trim allowances, neaten altogether and press apart.
Side seams
Position back skirt panels onto the front skirt panels, right sides facing, baste side seams (seam 4) and stitch. Trim allowances and press towards the back skirt panels.
Stitch the yoke onto the upper skirt edge
Baste the yoke onto the upper skirt edge right sides facing (seam 6); side seams meet. Stitch yoke closely along the piping using a one-sided edge stitching tootsie (see drawing 4).
Zipper
Use an invisible zipper for closure.
Open zipper and pin it's right side onto the allowances of the inner (wrong fabric side) edge. Start doing so from the upper neckline edge. The zipper teeth have to be very exactly positioned onto the marked slit edges. Stitch the zipper along the edge of the fabric keeping as close to the zipper teeth as possible; using a special zipper foot (a). Stitch the other part of the zipper onto the other slit edge (b). Stitch along the slit edges from the top down to the slit signs (arrows). Since the zipper teeth have the tendency to roll in, the special zipper tootsies will keep them flat. It is an advantage if the zipper is longer than the slit. If you are done attaching the zipper, close it.
Back center seam
Position back pieces on top of each other right sides facing, stitch the center seam, keeping as close to the slit as possible. Slightly pull the zipper. Secure thread ends. Neaten allowances and press them apart. ©
Hem
Fold and press hem allowances. Stitch the folding edge using a tight zig zag stitch. Trim the allowances close to the stitches. (d)
TIP: Make a test using a remnant. Use machine darning thread. Test and vary the stitch adjustment and thread tension.
0 Comments on Step 7
Patterns for this Project
Produced by BurdaStyle