Shari
Added Oct 8, 2007
By burdastyle
New York, New Yo...

Step 6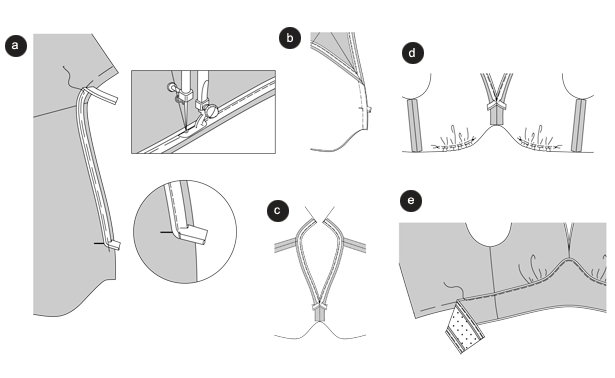 DRESS
Seams at upper piece, shoulders and sides
Position the front piece on top of the back piece, right sides facing. Baste the shoulder seams (seam 1), easing as necessary. Baste the side seams (seam 2). Stitch seams. Press allowances apart.
Neckline / piping
Baste the right side of the piping strap onto the neckline; the strap is now positioned on the allowance. At the center front, the piping strap has to be folded to the side. Stitch the piping closely along the piping strap, using a one sided edge-stitch-foot or a zipper foot. (a)
Center Front Seam
Position front pieces on top of each other, the right sides facing; stitch the center front seam, catching the piping allowance but not sewing through the piping. Secure thread ends. Press allowances apart (b). Fold allowance of top and piping inwards and baste in place ©.
Double stitching of the front piece
Stitch the front piece from * to * twice and parallel using long, loose stitches to gather the bust. Tighten the under threads to the length of the front yoke. Knot thread ends. Space the gathers equally. (d)
Yoke / side seams
Position back yokes onto the front yokes with right sides facing, baste side seams (seam 3) and stitch. Press allowances apart.
Stitch the piping onto the top and bottom yoke edges according to the text and drawing. Fold allowances inwards and baste in place.
Stitch yoke onto the front piece
Baste the yoke onto the bottom edge of the front piece, the wrong yoke side facing the right front piece side (seam 5). Side seams meet. Topstitch the yoke to the bodice closely along the piping using a one-sided presser foot or zipper foot. (e)
Related Techniques
0 Comments on Step 6
Patterns for this Project
Produced by BurdaStyle