Sewing Room (kaitui_kiwi)
Added Mar 21, 2010
Wellington, New ...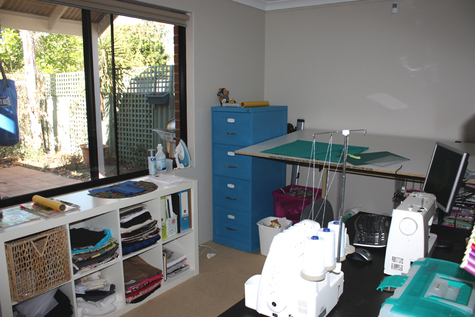 ShareThis
Description
So I am following gedwoods example and posting the ongoing "project" of my sewing room, I think it would be nice to see other peoples sewing rooms to give us all ideas and help new sewers with theirs.
My room doesn't normally look so clean and tidy but I visited Ikea yesterday for a few organisery type things and since I had a killer headache I spent the day quietly pottering around and organizing my stuff, folding fabric, putting things away in their new home, that kind of thing. I didn't realize how pokey my room looked until I photographed it, it is quite small but that also makes me keep myself organised and everything is within easy reach.
Here are some points of interest in the photos numbered in order:
1. I use the Expedit bookcase from Ikea to organize my fabric, the shelves are the perfect size to fold to, I pin a label to the bottom corner of each piece with the width and length so I don't have to unfold it all when I have my pattern in hand. I use a basket for my jars of buttons and other notions and it also holds my pattern binders and magazines (I am just about to go out for some magazine boxes since I "lost" mine to someone else, hehe)
2. Organisation doesn't have to cost the earth, I got this 4 drawer filing cabinet for $40 from the local rubbish tips recycling center, a coat of spray paint and it's prefect for all my patterns.
3. My layout table is a piece of pre-finished particle board from Bunnings on top of an old drafting table. It's nice and high so I stretch and reach instead of hunching as I cut and pin, it also gets me off my bum and moving about which I think is important for posture and avoiding repetitive strain injury.
4. I just got these yesterday, they are called Gorm from Ikea ($5.95 each) and they slide onto any existing top, then you can hook them under each other too, great for keeping bulky things at hand and I also have my fat quarters in them. Easy to move out of the way and put back again. I like to see what I have rather than box it away, that's why I moved my fat quarters here and why I fold my fabric into the Expedit shelves. If I can see it, I'll use it.
5. I use a cheap Ikea table for sewing on, it's already scratched up from scissors and pins but it does the job. My fianc cut 2 holes in the top to put my power cords through for each of my machines (oh my god it's cardboard inside) and my monitor in on a swing arm that I can move around to suit if I am sewing with pdf instructions up, or typing and posting to BurdaStyle :) Above I have my pinboard, I really need a second one, all my ideas, sewing business cards and photos go up here and you can see the thread holder I made, completely full now but if I get a second pinboard, I'll add one to that too.
6. I have a mirror on my wardrobe door and another thrift find, this is an old lamp stand that was out for verge collection, I have painted it white and one day I will make my paper tape dress form and this will be its stand. My ironing board is funked up with Ikea fabric and I will also put it on my chair soon.
So that's it, I think the most important things for me in my room are being able to see my fabrics and thread, ease of finding patterns and magazines and a nice ergonomic layout/cutting table.
I hope this inspires or gives you some good ideas for your own space.
Why don't you post your room too? :)
Material Notes
Material notes? Hehe, not enough, must…buy…more! :), Lots of Ikea furniture, so cheap, so fun to build.
Difficulty
Novice
Categories
Apr 21, 2010, 12.16 PMby roarah

Mar 21, 2010, 04.10 AMby judeb

1 Reply

1 Reply

Mar 21, 2010, 02.46 AMby gdac

2 Replies

1 Reply