Sew Serendipity A-line Skirt
Added Nov 8, 2012
by ndimi
Kerrville, Texas...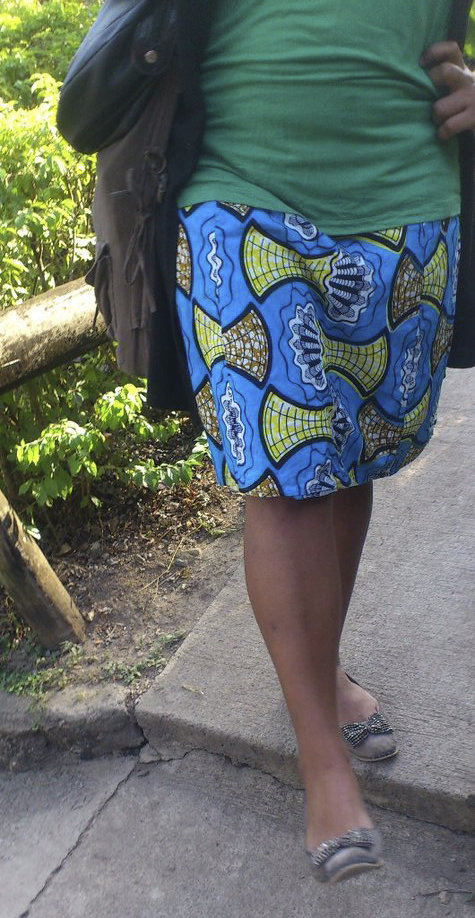 ShareThis
Description
Having received Sew Serendipity for Christmas last year (yes, I know, shush!), I decided to work my way through the book, one pattern at a time (there are 10).
This was the first attempt, an A-line skirt in some leftover African print cotton. I did a beautiful job, each edge pinked, each seam and hem carefully stitched and finished. I evan… gasp… managed to get a functional zip installed! SO proud of me.
Unfortunately, my novice status is not unearned, and when I tried on the beautifully finished skirt, it was fully FOUR INCHES too big! How on EARTH did I get that result?
So I sulked and passed it on to a colleague – a very thrilled colleague – who promised me photos. Umm… right… Her sister found the skirt and apropriated it. When my colleague argued that it was made for her, the sister said that it was obviously a thrift store find, and therefore available to wily claimants.
In the end, I got the photos I requested, although they are off a smart phone, so not briliant details, AND received a sideways compliment. She thought it was store bought! Whooo hoo!
Now I just need to figure out how to get my sizing right, and try again.
Material Notes
African print cotton, medium-weight with very little drape. Coulda contributed to the poor fit. ;)
Difficulty
Novice
Categories
0 Comments