Send me on my way
Added Feb 24, 2010
by amarie
Chicago, Illinoi...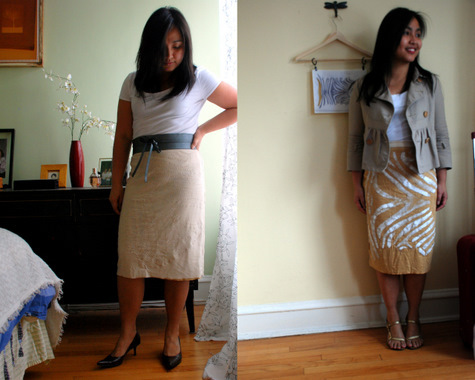 ShareThis
Description
I run studio workshops among my friends and we have been making all kinds of prints this past year. The really fun thing about our meetings is that it forces me to break out of my usual route to consider a different take on a common or similar theme. Animal prints are not obvious references to me but my friend Nada is a big believer of the animal print so I gave it a try.
Here's a reversible skirt made in the Alabama Studio Style. The stencil is based on a sketch I made. The print on the right side is done in reverse applique that shows off the zebra stripe pattern but the reverse side shows the print in a more subtle way that to me resembles the Japanese Sashiko embroidery method. I neatened up the side seams and top-stitched the waist band to make it reversible. Quite unintentionally, I got two different looks from the same skirt. I like that. It makes it perfect for travel whether that be Kyoto or Mali. Oh it would be so nice to actually go to Kyoto and Mali. Send me on my way! The Sashiko side is more me, I think, but time will tell which side I will wear more.
I'm a fan of Natalie Chanin and have followed her story from the beginning. I started off liking the clothes for its uniqueness but after I made my first corset, it sunk in. Her projects are never quick ones so it invites you to slow down and be mindful of your work and work is often best when someone is making something alongside with you as you chat about the world. What she gave me is a frame for thinking about how clothes should fit in body and in life. I hope you like this work inspired by her (even if it needs a bit of ironing) and I hope you also give her work a good read to see that behind her is an entire community of everyday artists and everyone of us have those - the grandmother who made the most amazing pies, the aunt who made your Easter dress, the mom who embroidered your initials in a handkerchief. It sounds corny but the really beautiful things in life often are.
Details:
Skirt Pattern: Melissa (BurdaStyle)
Fabric:
Wool knit (cream)
Linen Knit (yellow)
Thread/Notions:
Upholstery Thread (Coats and Clark, Color: Dogwood)
Elastic
Pearl White textile paint
Material Notes
Wool knit (cream)
Linen Knit (yellow)
Thread/Notions:
Upholstery Thread (Coats and Clark, Color: Dogwood)
Elastic
Pearl White textile paint
Difficulty
Novice
Categories
This project is based on
Make it