Seersucker Blouse 05/2012
Added May 15, 2012
Munich, Germany

Step 3 Sewing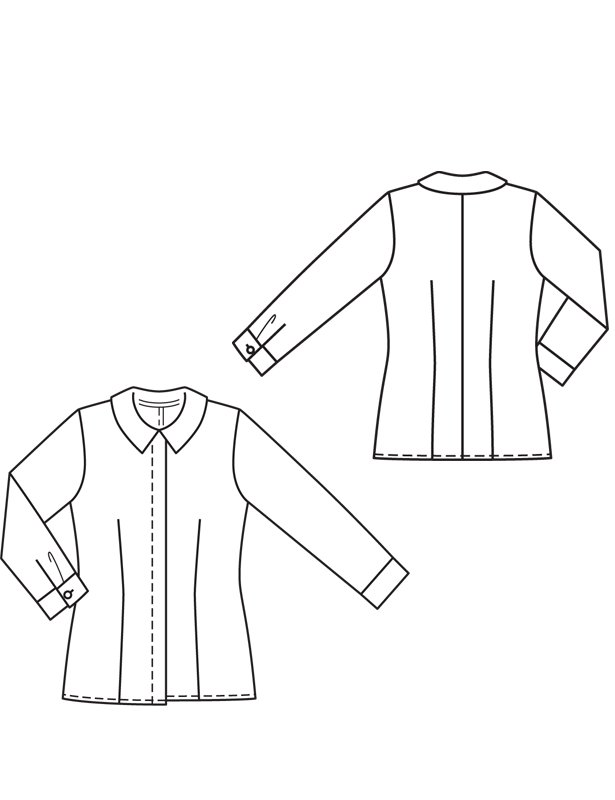 Stitch darts in fronts. Trim dart allowances to 1 cm (3/8 in) wide, neaten, and press toward centre. Stitch darts in back and press toward centre.
Stitch centre back seam, side seams, and shoulder seams. Neaten edges of seam allowances together and press allowances to one side.
Press hem allowance to inside, turn half in, and stitch.
Collar and neck edge: Stitch collar pieces right sides together along outer edges. Trim seam allowances. Turn collar right side out and press. Baste joining edges of collar together to neck edge, from seam number 2. Fold front self-facings to inside on fold line and press. Work buttonholes in right front facing. Fold folded facings to outside and pin to neck edge. Fold bias strip for neck edge lengthwise and press, right side facing out. Pin folded bias strip to neck edge so that fold edge of strip lies on garment piece, 1 cm (3/8 in) past seam line, and ends of strip lie on facing. Stitch along line of neck edge. Trim seam allowances. Turn bias strip to inside. Turn facings to inside and baste. Sew facings to hem edge. Topstitch front edges as marked. Topstitch neck edge 7 mm (1/4 in) from collar joining seam, beginning and ending at front stitching lines.
Slash sleeve vents as marked. Spread cut edges open to a straight line and stitch to one long edge of binding strip, as narrowly as possible. Press binding strip over join ing seam into vent, fold to 7 mm (1/4 in) wide, turn inside edge under, and sew to joining seam. On inside upper end of vent, stitch diagonally across bind ing. On front vent edges, turn binding to inside and baste to lower edge of sleeve.
Fold pleat in lower sleeve edges in direction of arrows and baste. Stitch the sleeve seams.
Stitch cuffs to lower sleeve edges. Press seam allowances of joining seams and of other long cuff edges onto cuffs. Fold cuffs lengthwise, right side facing in. Stitch across ends. Turn right side out. Baste inside edges in place. Topstitch cuffs close to joining seams.
Set in sleeves. Turn the garment inside out and set in sleeves in each armhole, right sides facing each other, easing the sleeve caps. Pin the sleeve to the armhole and stitch around the armhole opening. Press the seam allowance out in to the sleeve.
Work one buttonhole in front end of each cuff.
0 Comments on Step 3
Patterns for this Project