say NO to plastic bags!!
Added Jan 17, 2016
by Mirei71
***, Switzerland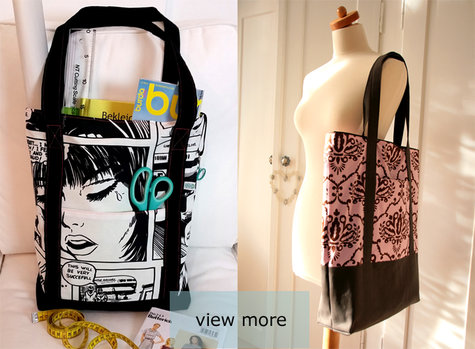 ShareThis
Description
Hello and a warm welcome to my new post this week! I hope you have started the New Year well and that you have been able to be creative and do some awesome sewing yet. In my last post I talked about my resolutions for this year and that one of them would be not to use plastic bags anymore. Here you can see my fist step to it :-) I have made 2 tote bags. Well I prefer to call them shopper, because the word "tote" is so close to the German word "tot" which means dead. So when I say tote bag I always associate it with death. So for me they are just shopper, which I like much better, since at the end, they are made for shopping! :-)
Since I have started to sew shopper I can almost make it through the day completely without plastic bags. I say "almost" because it still happends sometimes that I quickly go for bread&milk, but before I reach the counter I grab some sweeties, a mascara, 2 lip pomades, cupcake-holder, the new issue of Burdastyle, a new hairbrush, and I absolutely need that new tangle teezer, and oh look them sweet espresso cups, and how sweet is this toque, and nailpolish… (no I haven not all the shades in peach yet)… so before I'm out I end up with lots of other things too. But let's be honest. That's all just because of the inadequate positioning of that stuff. Would milk&bread just be placed next to the counter I wouldn't have to deal with this temptations all the time…:-) the result of that anyway is me standing there with no shopper to put in these gems. Let's say that still happends now and then but I'm working on it, 'cause the goal is "no more plastic bags!"
So far I have sewn 2 of it and my office colleagues were so excited about it that they decided to come over to my house and have a sew-afternoon with me. So they were standing at my door, each with their sewing machine under their arm. We knew, this is going to be real fun! I placed the machines on a big table, plugged them and png! One of them literally exploded in front of us!! I have never seen something like that before!! It started to burn from inside out and smoked up the whole room. It was an older sewing machine which had not been used for a long time. We could not stop laughing and placed the smoking machine outside so it could cool down. I gave her mine, so she could go on sewing. Besides coffe, cakes and some more goodies they created some wonderful shoppers!
I got the free pattern and the tutorial from pinterest. Link at the end of this post. It's totally easy to sew and good for beginners. The great thing about these bags is, that you can vary with fabric, colours and size. Just let your immagination run wild! With this post I hope I can motivate some of you not to use plastic bags anymore and to create some nice and original shopper. Have fun, big hug from my house to yours and see you in my next post. Bye!!
Difficulty
Novice
Categories