Sarah Ruhl's _Eurydice_ Costumes: The Stones
Added Jan 27, 2010
by veggiemaki
King Of Prussia,...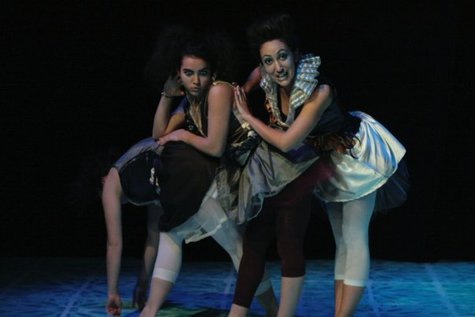 ShareThis
Description
Sarah Ruhl retells the story of Orpheus and Eurydice from the point of view of Eurydice. Eurydice journeys down into the underworld where she meets the Stones, three denizens of the underworld. The script gives no description of what they are exactly. This left a lot open to interpretation and the imagination. For this production of the play, the stones were depicted as young acrobats who also happened to have ties to greek mythology, the victorian era, ballet dancing and Lady Gaga. The costumes consisted of a wrap shirt and a skirt. The top was embellished with a ruffed neck (each one being different since I was experimenting with sewing techniques) and a geometric ruffle down the front. the skirt consisted of a jersey material waist band, with several layers of tulle (cut from an old crinoline of my grandmothers, as well as new gathered tulle) and an over skirt of light, well draping fabric)
Material Notes
Old crinolines, and slips make great basic material as they are already gathered and designed for movement. I merely attached them to a pre-measured waistband. When sewing the tulle onto the waistband, it was important to remember to stretch everything out as it went under the foot of the sewing machine, ensuring that the seams wouldn't pop when on the girls.
Any draping material can be used; i used a combination of taffeta for the geometric ruffle, as it is stiff, and various polyester materials for the rest of the shirts. Organza originally destined for curtains made the outer shell of the ruffs while stiff netting formed the foundations.
Difficulty
Intermediate
Related Techniques
Categories