Salsa shirt- Burda magazine 4/2010 # 112A
Added Sep 18, 2012
Winnipeg, Canada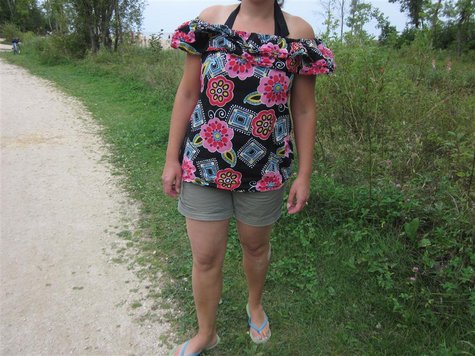 ShareThis
Description
I actually made this shirt last summer, however, my beach pictures of it somehow got lost on the computer before I could post them so I tried to wait until this year to get some new ones. This is the best I got (I forgot to get pictures when I was actually at the beach, so got some as we were walking away- oh, well). This is actually from the very first Burda magazine I purchased and the dress version is actually on the cover. I was at my local fabric store a few months after buying it when I found this cotton print fabric in the clearance section for $3/m! It is also the first pattern I used from a Burda magazine. The pattern is #112A from 04/2010. It is not in the pattern store, so I couldn't link to it.
Couple of minor alterations. The fabric was rather sheer, so I added a black broadcloth lining. I also added about 2-3 " to the length (I can't exactly remember how much- it was last year), because I felt the actual pattern piece was a little short. I am glad that I did that.
I love this shirt, although I feel a little conspicuous wearing it. It is rather colourful and frilly for the beach in our neck of the woods, but hey, someone has to shake things up a little!
Material Notes
printed cotton (lawn??), black cotton broad cloth, 1/4 " elastic, thread
Difficulty
Novice
Categories