Sailor-Style Bikini
Added Apr 10, 2012
New York, New Yo...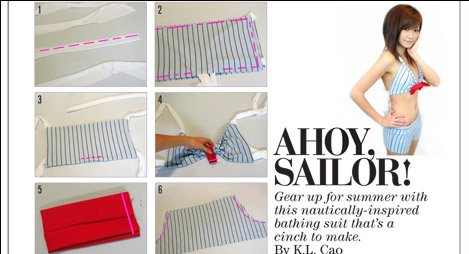 ShareThis
Description
THE PROJECT: Sailor-style Bikini
What you'll need:
135 CM (1½ YD) OF BLUE-STRIPED SPORT KNIT
23 CM (¼ YD) OF WHITE SPORT KNIT
23 CM (¼ YD) OF RED COTTON
GOLD BUTTONS (OPTIONAL)
BIKINI SHORTS PATTERN
TO MAKE THE TOP:
STEP 1: Cut four 5 cm x 40 cm (2″ x 16″) strips of the white knit fabric for your straps. Fold them in half with right sides together, and sew up each strap. Use a safety pin or pen to invert the straps, and then sew up each end.
STEP 2: Cut two rectangles from the striped knit. They should measure the height of your bust and the width of your chest (armpit to armpit). Take one of the rectangles, and with the right side up, pin a strap diagonally to the top left corner. Pin the second strap to the top right corner, the third along the bottom (leaving .625 cm [¼"] of fabric below the strap), and the fourth along the bottom, following the same process.
STEP 3: Bring all the straps to the centre of the garment, then place the other rectangle on top (with right sides together) and sew all sides, leaving a small opening you'll use to flip the suit inside out. Once you've flipped it, topstitch all four sides and sew up the opening.
STEP 4: Cut a 5 cm x 15 cm (2″ x 6″) piece of red fabric, fold it in half, and sew. Invert the rectangle and wrap the strip of red fabric around the middle of the striped fabric. Sew up the bottom of the red fabric and flip it onto its right side.
STEP 5: Cut another piece of red fabric 20 cm x 25 cm (8″ x 10″). Fold it in half and sew, then flip it so the right side is facing out. Fold the fabric in half so the seam is in the centre, and sew the ends. Then flip the garment to the right side and pull it through the centre of the other red rectangle. Handstitch it into place. (If you're using buttons, handstitch them now to the bikini top.)
TO MAKE THE SHORTS:
STEP 1: Cut two patterns for shorts on the blue-striped fabric. Place them right sides together and sew, then place the seams together and sew the crotch.
STEP 2: Cut a band of striped fabric that's 10 to 15 cm x 75 cm (4 to 6″ x 30″). Fold it in half and sew, then fold the garment so the wrong sides are together. Attach the band to the shorts and sew before finishing all raw edges.
Happy Sewing
Material Notes
What you'll need:
135 CM (1½ YD) OF BLUE-STRIPED SPORT KNIT
23 CM (¼ YD) OF WHITE SPORT KNIT
23 CM (¼ YD) OF RED COTTON
GOLD BUTTONS (OPTIONAL)
BIKINI SHORTS PATTERN
Difficulty
Novice
Categories
Credits
Written by: LoveSewing

Originally published on www.lovesewing.com
0 Comments