Sailor shorts w lips pocket
Added Jun 7, 2011
by junespoon
Belfast, United ...

Step 3 Pockets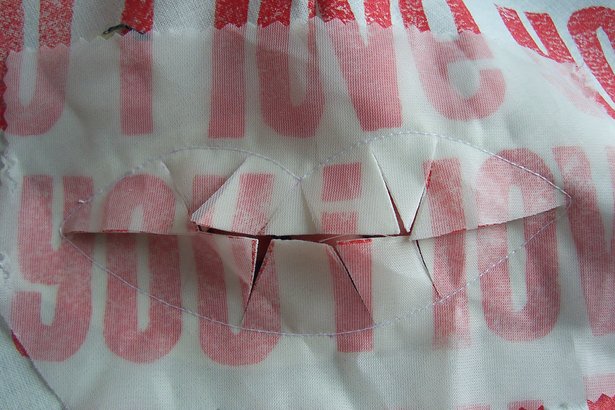 Sew waist darts in back pieces, press towards the centre back. At this point, decide if you want to add pockets and work these using desired method. You could sew on patch pockets or make welt pockets, or even just sew on pocket flaps for decoration and not bother about pockets – it's up to you.
I decided to do welt pockets and just worked these like giant bound buttonholes. (Check out one of the many online tutorials if you're not sure how to work them.) Just for fun I made the welt pocket on the right side in the shape of a pair of luscious lips!
This is the same process as for making a bound buttonhole but just in lip-shape. Stabilise the back of the fabric with fusible interfacing. Draw your shape in air-vanishing marker on the right side, where you want the pocket to be. Place a piece of organza over the area and sew along the marker lines of your shape. Now cut into the centre of the shape and snip from the centre line out to the stitching line, being careful not to cut the stitches.
0 Comments on Step 3
Patterns for this Project