Ruffles- LoveSewing
Added Oct 13, 2011
New York, New Yo...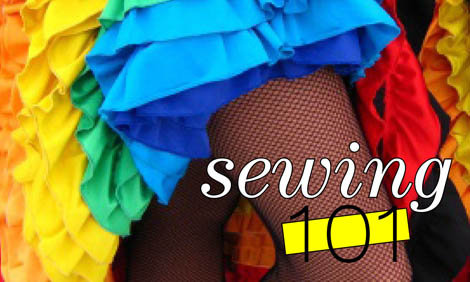 ShareThis
Description
An easy way to add detail to a garment is with a ruffle, which may be part of the garment's design or simply
an embellishment. Here are some definitions and pointers on ruffles:
Single ruffles are those found on the bottom of a skirt where the gathered edge is seamed to the skirt and the finished hemmed edge hangs freely.
A double ruffle is the type found on a bodice with the ruffle strip gathered and stitched to the garment in the middle with unsecured edges on either side of the stitching.
When I sew a ruffle I follow these steps:
1) Cut ruffle strip about 2 1/2 times the length of the fabric it will be sewn to.
2) Finish the hemmed edges.
3) Divide the strip into four sections, marking each section with a pin.
4) Using a baste stitch, sew two rows about 1/4 inch apart in the ruffle strip's seam allowance leaving a good length of thread on both ends.
5) Using another pin, secure the threads on one side of the ruffle strip.
6) Hold the top unsecured thread of both stitch rows while gently gathering the fabric by gently pulling along the seams.
7) Once you have a strip that is gathered evenly, pin and sew in place. Be careful to keep the gathering even without folds or flat spots.
(Or, if you've got a specialized foot for your machine, you can skip steps 3 to 6! Janome makes one called the Ultimate Ruffler (part: 943100000).)
I personally do my gathers and ruffles by hand, but I'd love to hear all about your ruffle adventures (with this specialized foot, or without)—or even better, if you've got pics of your sewing projects, please do share!
Categories
Credits
written by

Christine Carson

originally published on
0 Comments