Rufflebutt
Added Jul 27, 2009
by Kalile
Las Vegas, Nevad...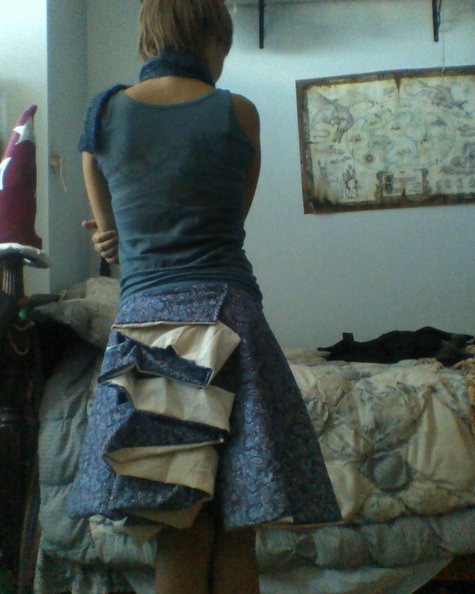 ShareThis
Description
A circle skirt with a faux bustle at the back. I've been looking at steampunk (see my endless ramblings below) and wanted to incorporate a bustle type effect, but with a ruffled cravat sort of look. The Coffee Date Dress ruffle had exactly the look I wanted, so I copied it. The skirt is lined, which makes it a little stiffer and less swirly, but the ruffle kind of takes the swirl out of it as well. The ruffle is also lined, which helps it keep its shape. I considered interfacing the ruffle, but then I would be forever worrying about it when I sit down; is the shape right, am I smooshing something wrong, etc. Bottom line… comfort is king, even if I sacrifice some style.
Oh, the skirt poofed out in a funky manner when I first pinned the ruffle. I ended up putting a small pleat in the center back of the skirt, and then after the ruffle was attached, gathering in the back of the skirt even more and tacking it in place.
Explanatory ramblings:
I am rather enamored with the steampunk aesthetic. I've been thinking about how to incorporate some of the Victorian styles into my own wardrobe without looking ridiculous. I just can't rock leg of mutton sleeves, for example. Especially with a short pixie hair cut and a nose ring. In addition, I dress casually. So casually, in fact, that anything quirky risks looking like a costume. I think that people who already dress in the gothic style will have an easier time pulling off the steampunk look. Same with those who like the "Lolita" (god how I hate that term! I've actually read Lolita, and therefore must forever shudder whenever I hear it, even though there's nothing inherently yucky about the aesthetic) style. In fact, I may end up selling this skirt if it's too silly on me. That's how casually I dress. A person could dress it up with knee high socks and combat boots and/or a bustier, or down like me with a simple tank top. I think it's casual enough for most people, but it's still borderline for me.
Right now the skirt is a little like a mullet – business in the front, party in the back (Oh hoh hoh hoh, so funny). The patterned fabric obscures the wrapped look, where it overlaps on one hip (similar to a Leslie skirt). I don't know if it would be too flashy to put buttons on the outside, over snap fastenings inside, and turn under the edges so that the slit is emphasized. That would allow some leg to peek out with every step, but it might be too ostentatious.
Oh, and as far as the name goes, I couldn't think of a good pun. Feaux bustle- Fustle? Ruffle bustle – Rustle?
Cravat Skirt? Mini-crini?
Nah. Rufflebutt. It displays my razor sharp wit SO much better. ;)
Final note: yes, I have a pink wizard's hat on one of my bedposts. But I'm not a freaky fantasy child, I swear! I'm just about normal. I don't wear it (often).
Material Notes
Cotton cloth (skirt and lining) snap fasteners
Difficulty
Novice
Categories
Aug 9, 2009, 02.25 PMby lelie

Jul 29, 2009, 09.31 PMby Kalile