Renaissance Faire Garb element - men's biggins
Added Apr 28, 2010
Chapel Hill, Nor...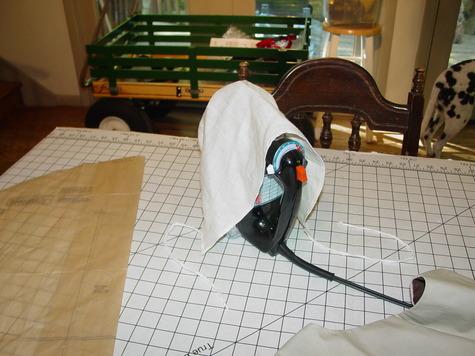 ShareThis
Description
Every spring, there is a huge Renaissance Faire in the very next town over from me, and every year more and more people go and have a lovely time in the imaginary village. Plus they sell roasted turkey legs! So this year I determined to go.
Faires are set in different times and places, and the authentic clothing of that setting would be the most appropriate thing to wear. This particular faire is set in the late 1600s in England, so when researching clothing I stuck to that period. I chose to make peasant clothing because I only had about 2 weeks to make everything. I did all of my research online, although there are several very good books on the subject in print.
To our modern eyes, these are not the most becoming clothes in the world – they are not particularly fitted or body-conscious – an element of many folk patterns! The biggins is almost offensive to my modern sensibilities but it was an ESSENTIAL part of the clothing of the day. To go without it would be like going topless today. It was a little linen cap made out of two rectangles and a u-shape thing that tied under your chin and covered your hair.
This page covers only the men's biggins, but the overall project consists of the following elements:
male biggins
female biggins
jerkin
bodice
chemise
male shirt thing
shin wrappings
male hat
breeches/slops
underskirt
Needless to say the past few weeks have been a sew-fest, as the Faire is this coming weekend.
I did not make a full-on, museum quality reproduction garment, but one that would appear to a casual observer to be fairly authentic. I used a machine to do the stitching, and polyester ribbon. However I was able to make it from linen using an old shirt!
Material Notes
linen
Difficulty
Novice
Categories
0 Comments