ReMake Challenge: 2 Old Thrift Store Leather Jackets become...
Added Sep 27, 2010
by mysticah
Vacaville, Calif...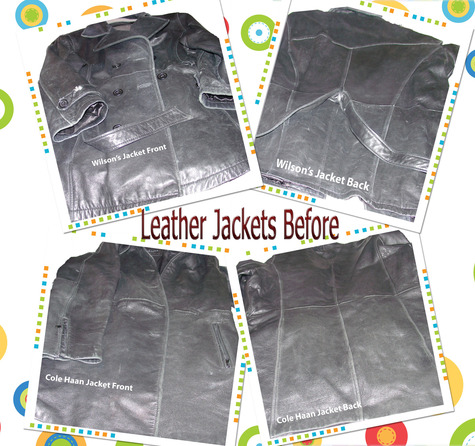 ShareThis
Description
A refashion challenge was the perfect inspiration to do something with the two leather coats that had been sitting in the closet for far too long.
I decide to use Burda 8327. I love this Burda skirt pattern! This is the third time I have made it, so I knew it was a good pattern for me and is very well drafted.
I picked up the Cole Haan at a thrift store ages ago because the price was right and the leather was divine. The Wilson's coat came from a garage sale, again price was right, but the coat was a hot mess. It appears as though someone's dog had gotten hold of it and used it as a chew toy. But when I saw it, my long time dream of working with leather won out and I figured 'Why not?' If I royally screw this up, what is the loss?
I really wanted to do something totally unexpected with leather. Something drapy, something divine, something unique. While this was a far more complicated project than I anticipated, I think I achieved what I was looking for and I learned sooo much from the whole process.
Since I started this project with a 'What do I have to lose' attitude, I took more chances and tried things I never would have had this been an expensive fabric or for a really important function. I highly recommend this approach when you have lost your mojo or when perfectionist tendencies have you paralyzed.
I really liked some of the details on the Cole Haan jacket and wanted to incorporate them into my skirt. Specifically, the bound zippered pockets and the zippered sleeve vents. My favorite part of the completed skirt are the sleeve vents that I used in place of my back darts and act as my closing. I love the way it looks and it meant that I didn't have to put a zipper in leather. I did have to angle the back seam to increase the dart take-up a bit to compensate for what the zipper parts didn't take up.
You can see in the "Fun Details" photo where the pockets became angled hip pockets on the front. This photo also shows how I converted the darts to curved princess lines. I think this works much better than darts in leather especially when there is so much piecing.
In order to get the large pattern pieces to fit on the leather and not look odd, required turning this 7 piece pattern into one that eventually had 38 separate and distinct pieces. Adding seam allowances to so many oddly shaped pieces, making sure everything lined up AND fit on the leather was very challenging.
All of the horizontal piecing was done with lapped seams. A couple of things that helped were labeling each piece, using different colored marking pens to span each section (a quick visual reference to make sure I could tell what went with what) keeping the pattern piece and leather together with binder clips, laying out a entire panel and basting them together with double sided tape until ready to sew. Take a look at the "Construction" photo to see what I mean. On the critical match points such as the sides and flounce, I hand tacked them so the match would be perfect.
Leather CAN be ironed! The deconstruction process was an amazing learning experience. I was really surprised at how much interfacing was used with the leather and even more shocked when I realized that it was IRON-ON interfacing. I figured if a high-end designer like Cole Haan can do it, who am I to argue?
I did do some tests with my Rowenta iron and used four layers of tea towel as a pressing cloth, especially when ironing the face of the leather as it will mar easily. Leather naturally has thicker and thinner areas and since I didn't have the luxury of working with a whole skin, I couldn't pick and choose where I laid out my pieces to make sure high stress areas were on thicker skin. To compensate for this, I fused interfacing on any really thin pieces that concerned me. I used knit interfacing and it worked really well for this.
Leather CAN be washed and dried! Since these coats came from 'unknown' sources and I felt grimy every time I touched them, I tossed them in my washer and dryer. They came out great and now I could work with them without feeling gross. (proceed with caution if you have an already nice garment)
Leather WILL rip! Take your time on the deconstruction process when working with leather. I made the mistake of trying to rip two seams apart. On the cheaper/lower quality Wilson's jacket the leather gave way before the thread and not just in the seam—it tore all the way across the leather piece. After that little disaster, I started rotary cutting the pieces apart at the seam lines. No point in doing a lot of picking as the already sew areas have permanent holes that are weak, unsightly and of little use.
Leather is NOT forgiving of alterations! Make sure your pattern fits as there is no letting out of seams once sewn.
Since the original lining from one of the coats was in very good condition, I considered using it to line the flounce, but by the time I got to that point I was really tired of piecing and my brain hurt. So I pulled an ancient piece of black acetate (?) out of my stash and used it instead. This was actually one of the more difficult tasks as the flounce is curved and bias and I didn't want to try and fold up such a curved hem on the leather as it does NOT ease well and the rest of the seams were raw edged. I ended up making a narrow bias strip of lining and attaching it to the leather hem. I then attached the full lining part to the bias strip with a lapped seam application.
Material Notes
All of the leather used with the exception of two of the flounce sections, came from the recycled coats. The lining is from my stash.
Difficulty
Advanced
Categories
Sep 29, 2010, 02.22 AMby nettie