Red V-Neck Evening Gown with Starburst and Godets 11/2011 #124
Added May 28, 2016
by ashkabash
Boston, Massachu...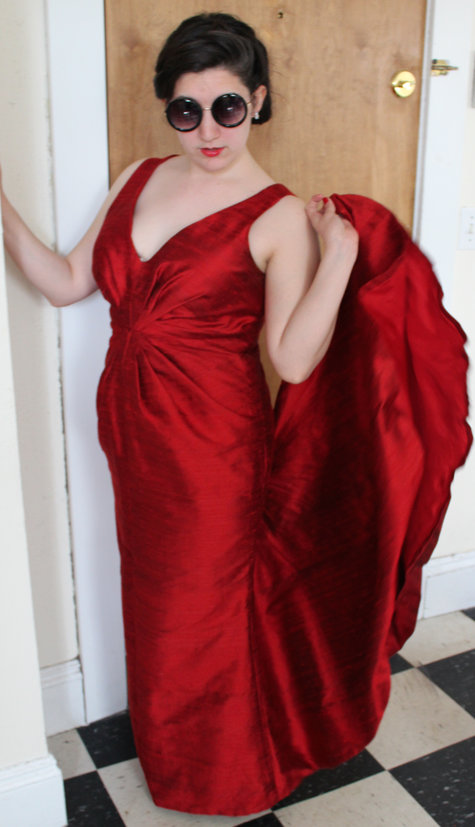 ShareThis
Description
Description
What a vampy gown! I love how it's sexy but covered, fitted but long. I made this for a formal event in early April. I started in February. This project took a looong time, mostly because I had to wait for materials to arrive from online + I underlined and fully lined it. I was still sewing about an hour before the event, but darn it, I finished it in time!
Modifications:
Bodice: as other makers have noted, the straps as designed sit a bit off shoulder. It's difficult to tell with the provided photos since the model for the gown version isn't even wearing the darn dress… I went through several rounds of muslining the bodice, slowly moving the v neck in on both the front and back. I have a fairly narrow back and removed quite a length from the back v-neck.
I added a bunch of extra room at the waist that I wound up taking in during the final construction. I decided that it would be easier to do the final fitting by moving the zipper to the back, a modification I've started doing for most patterns with a side zip.
Skirt: Since I did an FBA to the bodice, and I wasn't sure how that modification would effect the hip pleats. I guess I could have tried to see how the unmodified skirt piece would line up with the modified pleats on top, but I was pretty sick of muslining but that point. I basically did the same cut and shift on to the skirt pleats and they lined up perfectly, so there was more hip volume that in the original pattern.
I understand why many formal dresses with linings only go to the knee so you don't trip on it or whatever, but I find those can bunch up weirdly. I cut the lining for the full skirt and tacked it under the outer fabric's hem. It took foreverrrrr to hem it this way, but the feeling of the silk lining on my legs was so nice that I am glad I took the extra time. I used silk thread for the hem, and it worked out perfectly!
I also thought the dupioni needed some extra stability, so I underlined it with silk organza. It gave the gown a nice amount of structure. I couldn't get the full godet and skirt back cut in single pieces, so I had to sew them together.
I wish I had more reasons to wear this! This is probably the most complicated thing I've ever made, and it's definitely the garment I'm most proud of.
Material Notes
Silk dupioni outer fabric
Silk organza underlining
Silk habotai lining
Difficulty
Intermediate
Categories
May 30, 2016, 02.50 PMby kisses

May 28, 2016, 05.49 PMby IDia