Recycled Denim Jackets
Added Sep 11, 2013
by matrowland
London, United K...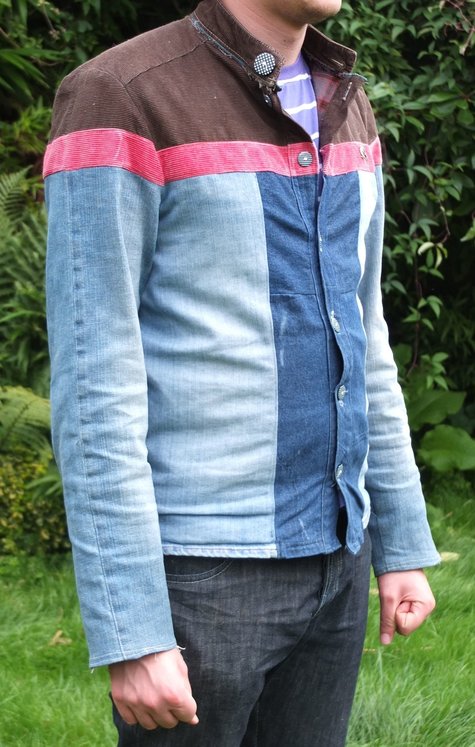 ShareThis
Description
Hello Burdastylers! These are a few examples of one of my early designs, meant to be a range of light spring/autumn jackets. They are all made entirely from recycled clothing, mainly denim. I chose them to show off the variety of looks and constructions possible making recycled clothing from a single base pattern. The pattern I use is loosely based on the Frank Button-Down Shirt, which I basically used as a block. The back yoke is lengthened, and I have added a front yoke that goes between the front armholes. I have generally used different materials for the yokes, for a two-tone effect. Working with recycled denim means that often I have to stitch together multiple smaller pieces to make the larger pattern pieces. I like the resulting patchwork DIY aesthetic.
For the first one, the construction wasn't my best, but I liked the overall result. It's made from a couple of pairs of jeans, with the yokes and stand up collar made from a couple of corduroy skirts. This one is lined with some fabric from a flannel shirt, and has a simple hemmed cuff. On the back piece you can clearly see the old fade and fold lines from the back pockets and waistband that were used to make it.
The second was an improvement, the main pieces of the front and back are made from a multi-panelled denim skirt, which allowed me to use the triangular pieces to create a radial effect. Because it's denim, the fact that some of the pieces are off-grain doesn't matter much, and I like the contrast of the non-parallel grains. The yokes, collar and shirt style cuffs I managed to make from a single pair of jeans. The frayed hem was part of the original skirt, which I liked and so decided to keep.
The third is my favourite. It's made of a bunch of small pieces of grey and black denim from a large skirt and a couple of pairs of jeans. I was going for a kind of brutalist-concrete city look which I think works OK. I left some of the stitching and seams from the original garments. It has zip pockets, and a more jacket-styled cuff. The yellow stitching, buttons, pocket linings and printed logo on the back were intended to give a nice contrast.
If you're interested, there are more pictures on my blog (see my profile).
Material Notes
Working with recycled denim is fun and not too hard. It's quite forgiving, widely available and cheap. In fact, I bet everyone has some old jeans they don't really want anymore! Otherwise, you can get xxl pairs at charity shops for not too much. Denim is easy to stitch together and press flat to cut larger pieces, since it won't stretch too much. It can become a little trickier if the denim is actually a cotton/stretch blend.
Pieces of corduroy or twill can provide nice colour contrasts, and are often of a similar weight.
Difficulty
Intermediate
Categories