Re-made dress with lace
Added Feb 14, 2013
by laracrj
Cardiff, United ...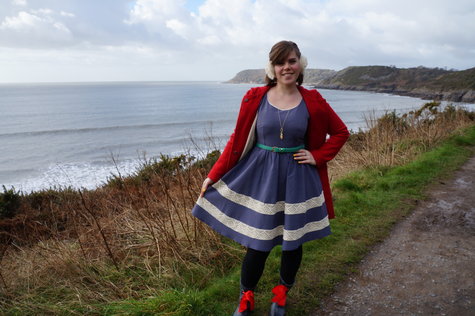 ShareThis
Description
Here's a dress I remade from my 'Cinderella and the thin line' original dress. http://www.burdastyle.com/projects/cinderella-and-the-thin-line
Nothing in it was really working for me so I set about to make my alterations.
1. Remove the strap at the back.
2. Lower the bodice a couple of centimetres.
3. Chop off the skirt.
4. Plan to cut out a half circle skirt for the lining and a wider half circle skirt to be gathered for the outside.
5. Accidentally chop the wrong skirt part into sections.
6. Stomp and scowl.
7. Sew and overlock those sections back together and scratch head over why they are now different sizes?? (If anyone asks I completely meant for the lining to look tiered!)
8. Cut the actual skirt fabric into 3 sections.
9. Sew in the lace (of which I bought 14ft for about £3 on ebay – score!)
10. Attach skirt lining to bodice lining.
11. Gather skirt fabric and attach to bodice fabric.
12. Sew in zip as shown on previous blog post. http://dreamingofavonlea.wordpress.com/2013/01/26/a-zipper-with-no-visible-seams/
13. Sew seams together.
14. Hem lining and skirt.
So that's it in a nutshell. I think it's more of a summer or evening dress really, but we went on a lovely walk along the beach today and I knew it would be a perfect photo opportunity, so I just styled it differently. Plus it pretty much is 2 dresses in one so it was nice and warm! (I have no idea what the fabric is called, but it's heavy and stretchy – any ideas?)
I still need to add a hook and eye, but I was just desperate to wear it today.
Check out more on my blog http://dreamingofavonlea.wordpress.com/
Material Notes
Something thick and stretchy?
Wide cotton lace
Difficulty
Intermediate
Categories