Quorra Tron Legacy
Added Oct 5, 2011
by Annissë
Hollywood, Calif...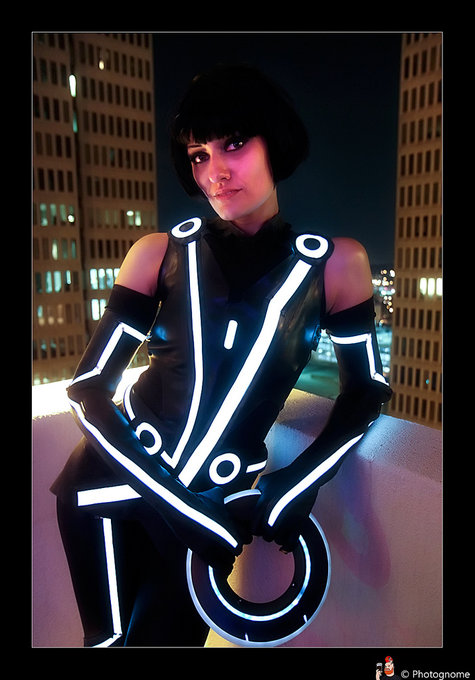 ShareThis
Description
I loved the movie Tron Legacy, even before it debuted December 17, 2010.
I just HAD to make Quorra's costume come to life, the moment I saw it.
This is my 3rd rendition of the Quorra costume re-creation I have made, which fully illuminates with white Electroluminescent (EL) Tape for short. Google it, you'll find tons of links for this product.
My 1st suit was only reflective tape, then my 2nd suit was made to light up with El Wire which was diffused with a clear shower curtain. It wasn't bright enough for my taste so, I had to re-work the lights once again.
My 3rd version of my Quorra costume chest and arm armor is made out of black latex flat sheeting. Try molding flat sheet rubber to the curves of your body. Not an easy task at all. The under bodysuit top is made of a hexagon custom printed spandex fabric screen printed by Soulinertia a member on the Replica Prop Forums.com, www.therpf.com. This fabric along with a 4-way stretch black matte vinyl I used to sew the under bodysuit. I made custom boot covers to style my wedge boots after the movie Quorra boots out of Neoprene material, a rubber like material like a yoga mat. The ID disc on my back was a store bought disc which was completely gutted out and modified with more LED lights and stay on lit up permanantly with a push of a button. With the help of RPF member Soulinertia's mod-kit and instructions made my ID disc AWESOME!! Wig styled by me.
It took about half a year in 2011 working off and on creating my Quorra 3rd and final version of the costume.
Please have a look at all my photos. I also included one photo of the actual movie suit Olivia Wilde is wearing in the movie poster to show the costume I have re-created in this project album.
Material Notes
Black latex sheeting.
HEX custom print athletic spandex and 4-way stretch black matte vinyl spandex fabrics.
Rubber cement and thinner to glue the latex seams
Modified store bought TRON ID disc mod'd for permanant stay on LED lighting.
Nerophrene custom made boot covers
Lite Tape white EL Panel with inverter and 12V battery pack
Difficulty
Expert
Categories
2 Replies