Puff Sleeve black dress!
Added Nov 18, 2011
by Stacey Whyte
London, United K...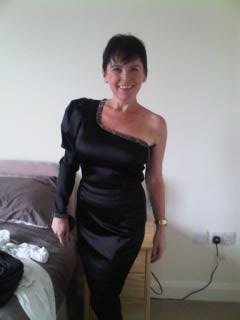 ShareThis
Description
A friend of mine gave a challenge to see if I could design her a little black dress.
I sketched out a few ideas and though a black one shoulder puff sleeve dress might look quite nice.
I had a basic dress block pattern so decided to work from this.
After taking down her measurements, I adapted the basic block to her size.
I made the dress out of Calico material first, and then brought some stretchy black Satin fabric.
This was my first time making a dress for somebody and I had great fun doing it.
I had a few problems along the way and I had to hand sew in the zip.
This turned out great and very neat and it was the first time I had sewn a concealed zip!
The end result was great and she was very happy with the dress.
I did change the neckline slightly as I thought the shoulder part was a little bit too high for her as she is quite small and has a small frame.
You can see this in the picture.
I also made the sleeve tighter and shorter, to wrist lenght, all the way down so it wasn't so baggy, but very close fitting.
I will be doing another project like this, but next time I will note the step by step instructions on how I made it.
I will make this dress in denim next for myself
Thanks for looking! x
Material Notes
2.5 metres of black Satin
1 black concealed zip
2 metres of dimonte on a strip
Categories