Prom Dress - a story of self discovery
Added Jul 9, 2010
Toddington, Bedf...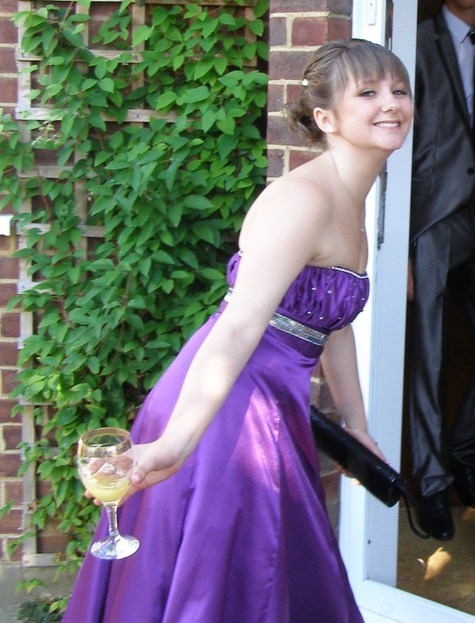 ShareThis
Description
This is my proudest project yet. When my friend asked me if I would make a prom dress for her daughter, I was really proud that she thought I could pull it off, but I was petrified. I don't think I've ever had someone putting so much faith in me before, so really scary.
As we all know teenagers are very aware of themselves, image is very important and the most certainly do not like to stand out – well, not in a negative way anyway, so you can imagine that I was super nervous – didn't want to destroy this poor girl's prom, so I made a mock dress with a cheaper satin in case it went wrong. Luckily she liked the mock dress, but we had seen a gathered bodice on another dress in a shop that she really liked, but I had said that I didn't know that I had the skills to make something like that. I really liked that top too and wanted to learn how to make it, so I did and surprised her with it. To my delight, she loved it! Well, I did use a McCall 5806 pattern for the bodice. She had liked the skirt from the mock dress which was from Simplicity 3784 and so here we have the dress.
The most difficult thing I did was having to tweak the bodice until it fitted right. I absolutely hate unpicking stitches (don't know why), so that was a bit challenging. I also had to learn to sew beads. I know that this sounds silly, but sewing a bead is fine, but a cluster of them in one place needs a lot of thought. I had to unpick a few to get them in the right place.
We weren't sure whether or not to add silver trims to the bodice midriff, so I made a detachable belt of the satin fabric and sewed two rows of silver trim in the middle so that she would have the choice. Luckily, she liked it and wore it with it.
I have learnt many valuable lessons with this dress. The dress is not perfect by a lot of standards, but it is perfect for my darling Jodie and it looks perfect on her. I learnt that I have to believe in myself, after all, others do believe in me. I have learnt that it's OK to make mistakes, you learn by making them and no one expects me to be perfect except my imperfect self. I have learnt most of all, that I can do anything that I put my mind to 100%.
So here in my journey of prom dress discovery, I am willing to take compliments as well as criticism and be proud of both.
Thank you for reading and I hope you like it, but if you don't that's OK, I'm still learning and will be learning always.
Material Notes
Liquid Satin Fabric, Taffeta Lining, netting, zipper, beads, silver trims, diamant trim, boning
Difficulty
Intermediate
Categories
1 Reply

Jul 11, 2010, 09.23 PMby maria3

1 Reply

Jul 10, 2010, 02.10 AMby natski

1 Reply

1 Reply

Jul 9, 2010, 08.38 PMby msgems

Jul 9, 2010, 08.24 PMby keren

Jul 9, 2010, 08.17 PMby keren

1 Reply

Jul 9, 2010, 07.55 PMby keren

1 Reply

Jul 9, 2010, 07.37 PMby keren

1 Reply