Project runway Comp - 'The psychology of spring'
Added Sep 22, 2010
Adelaide, Australia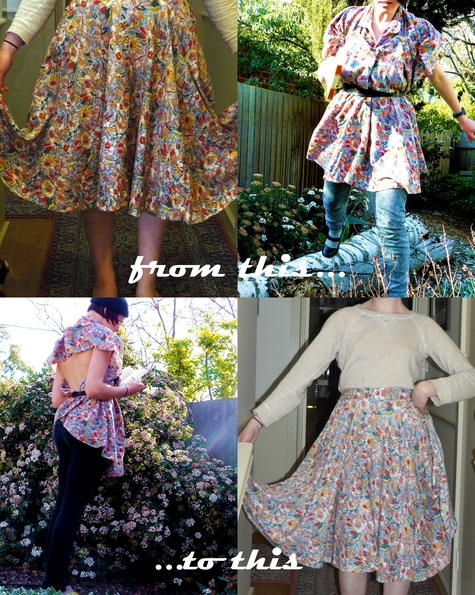 ShareThis
Description
so sadly because i live in Australia i can't actually enter the project runway comp….but what the heck ill make something anyway!
So this is an old flowery circle skirt with in seam pockets, and it does up either side with buttons. I bought from some markets in Sydney ages ago for $2 and for some reason have just never worn, so clearly the only option is to put it to some use and make something new!
so….the final product…
i ended up putting the back waist band around my neck which creates the kind of collar, the front has been pulled up and where the old buttons holes are i have attached it with big old gold buttons. As shown in the last pic, the pockets are still functional! i could put my lip gloss or phone in there and no one would ever know.
I used pulling gathers on the shoulders and centre back (kind of creating a little capelet) and attached the seams of the front of the skirt at the back to create that opening.
im actually quite pleased with how different it is from what it was! esp that i can still use the pockets. this is something i know ill wear :)
p.s. such pretty spring fabric. i will have to go to the seasonal flower show in it ~.^
also, excuse if its sitting badly…mum isnt the best fashion photographer!! doesnt tell me when things are sitting right :p
Material Notes
Old circle skirt
Difficulty
Intermediate
Categories
0 Comments