Project Runway Challenge #5: There is an I in team
Added Sep 12, 2010
Portland, Oregon...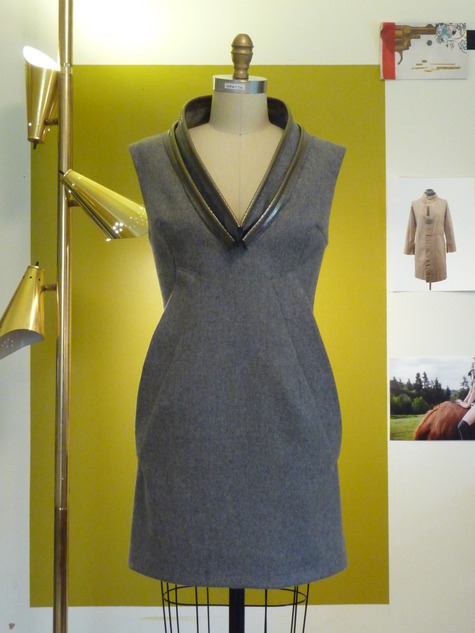 ShareThis
Description
I just finished challenge #5, a little under 10 hours spread over the course of 2 days, and I LOVE this dress! Let's get into the details, shall we?
Challenge #5 was a team challenge, where each team chose a concept and a textile from a list of Fall Trends Tim Gunn provided. I didn't have the luxury of having team mates (if you can call working in a group of head-strong designers a luxury) nor the $1000 budget, but I did have the help of friends and family that chose my wonderful concept and textile for me!
My Concept: Minimalist
Textile: Metallic
I love sequins so I used PVC stamped to look like sequins and wool coating. Big, deep, single welt pockets not only flatter the figure, but can hide those snack bars when you go over to Aunt Millie's house for supper! (Gritty Green Bean casserole anyone?) Short and minimal, it is a must have in the closet and on your frame for fall, perfect over purple tights with some flats, or a stellar pair of boots. The deep V in front will look demure with a long sleeve T, or a tank, but can go sexy for evening with your gravity defying bra! Size M (36 bust, 29 waist, 38 hip). I can do custom orders on this one. Colors too! Imagine it in Navy with Silver trim, or Black with Gold!!
Material Notes
Heather Grey Wool Coating & PVC stamped to look like sequined leather!!
Difficulty
Intermediate
Categories
1 Reply