Professional Sewing Kits
Added Nov 10, 2012
by MollyQuest
London, United K...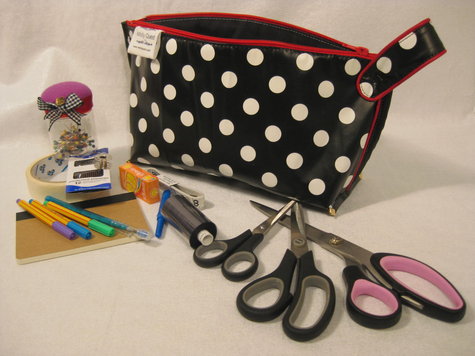 ShareThis
Description
This is a Great Kit for the Beginner to the Advance Sewer! Suitable for:
Fashion Students, Crafters or even perfect for the home! This is also a Fantastic Present to give this Christmas!! Be the talk of your class with this fabulous kit that is jammed packed of sewing essentials, the case is made of PVC which is great to wipe clean and fully lined with 100% Cotton.
The Case measures: Top Width 35cm – Base Width 26cm – Depth 10cm – Height: 16.5cm
Kit Contains:
 1x Pair of Fabric Shears: Quality 9 inch stainless Steel Soft Grip Shears, Excellent quality and only to be used to cut Fabric
 1x Pair of Paper Scissors: Exactly what it says on the label! Great for pattern cutting or paper crafting
 1x Pair Trimming Scissors: I always encourage my students to use these at the sewing machine for trimming threads and snipping.
 1x Standard Quick Unpick / Seam Ripper: In my opinion, I think that this is the most important tool in any sewing kit! Great for unpicking those mistakes and opening Buttonholes
 1x Reel of Sewing Thread: Quality Coats Moon spun Polyester Thread.1000 yards per reel. A great all purpose thread.
 1x Eraser & Propelling Pencil: Especially for pattern cutting you will always need a fine hard leaded pencil and a propelling pencil provides this!
 1x Masking Tape: Masking tape is used in pattern cutting when manipulating patterns and easy to write on, unlike Cellotape.
 1x Tape Measure: 60 inch and 150cm Imperial and Metric Tap Measure. I always recommend that my Students use a 1.5cm wide fibre glass tape measure, as it is hardwearing and also the same size as the standard seam allowance of 1.5cm. Great for Pattern Cutting!
 3 x Fine Liner Colour Marker Pens: In pattern cutting it's always useful to have at least 3 different colour markers to identify different pattern markings and symbols.
 1x Bobbin: Metal Domestic Sewing Machine Bobbin, you can never have enough spare bobbins
 Assorted Sewing Needles: Great pack of 12 assorted hand sewing needles, perfect for all your hand sewing needs!
 1x Handcrafted Pin Jar & Pins: Fabulous Pin Jar with felt pin cushion to use on the go and keep all those pins contained in plastic jar (so no fear of it smashing if dropped)! Contains Bead Head Pins (Approximately 60 Pins)
 1x A6 Plain Notepad: Notepad to sketch down any quick ideas that may come to mind!
Categories
For

Garment Type
0 Comments