potting shed skirt
Added Apr 12, 2010
Virginia, Virgin...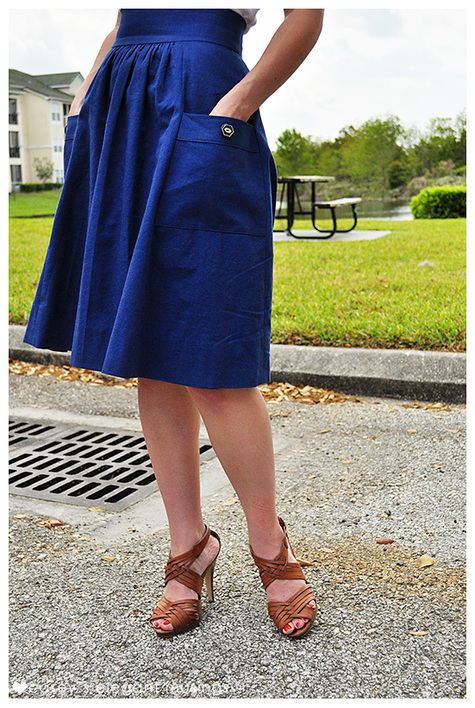 ShareThis
Description
This skirt was inspired by a picture (last image; left skirt) in the 1947 McCalls pattern book in my collection. I really loved the way the front was shaped with the gathers, although at first I was worried this could be one of those styles that could go horribly, horribly wrong. I based the pattern loosely on a mid 40s Hollywood pattern (2nd to last image) for an a-line, gored skirt. A few tweaks here and there and the additions of a new waistband and pockets, I had a similar skirt! Of course, it's not a carbon copy, but I've decided that I am incapable of copying anything verbatim. I get too distracted by the possibilities of making a small addition here, or changing a little bit there. lol. It did have a few hiccups along the way: namely the proportion of the front gathered section and the side panels; at first the sides were a bit too wide at the waist, compressing all the gathers in to a tighter bunch than I had envisioned (or was flattering), so I had to play with that a bit. Overall though, I'm quite pleased as punch about this skirt and it's ginormous pockets! (Have I ever mentioned my secret preoccupation with big, functional pockets?!)
The fabric is a medium weight linen with the loveliest, slightly nubby texture. (Probably another thing that prompted the "potting shed" title: the fabric texture reminds me a bit of burlap used to wrap plants.) Yes, I realize it's blue. This is the third blue skirt I've made in recent weeks. I think I'm done for now! But, I have to admit, the blue skirts have been working their way seamlessly into my existing closet. I added two buttons at the pockets (and am kicking myself now for not making these functional–with actual buttonholes in the pockets!); matching ones that I just happened across in my stash! I love when things come together like that…
I don't know what prompted me to name this skirt the "potting shed skirt". Maybe it's the yearly urge (at it's strongest right about now) to grow things (being cursed with a decidedly brown thumb, it never quite works out!)? Or perhaps the big pockets just seemed rather utilitarian and perfect for toting around gloves and little garden tools while rummaging around my imaginary garden? The recent trip to Anthropologie may have had something to do with it; I have always had a soft spot for their whimsically-titled garments. Who knows though… I sometimes wonder how my brain comes up with these things. hehe!
Material Notes
linen
Difficulty
Intermediate
Categories
1 Reply