Poppy Dresses for the Twins
Added Jul 20, 2011
Liverpool, Unite...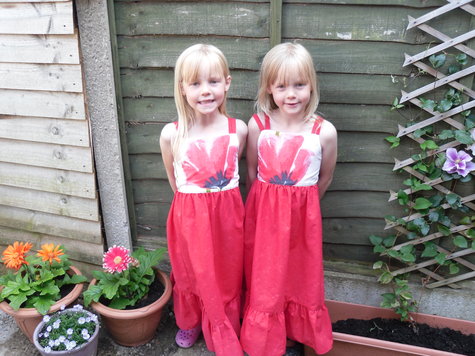 ShareThis
Description
Yey – I'm back and have a lot of sewing plans for the next few months. I've been very busy on a school placement lately and have been getting serious withdrawal symptoms, so what better way to get back into making and doing than to make my gorgeous sisters matching summer dresses! The bodice is fully lined and is elasticated at the back for easy wear and room for growth.
You'll never guess what these are made from though … bedding!
I never thought to use it before but I discovered this little bedding shop that was closing down near to where I live and they were selling duvet sets for next to nothing. When you work out how much material you get within even just a single bedding set compared to how much it costs, it's a real bargain! Plus they had some really unusal patterns printed on good quality cotton, things that would cost a fortune from a material warehouse!
As you will see, a lot of my creations over the summer will be made from various bedding sets I have purchased.
I hope you like the dresses and maybe you can give the bedding idea a go!
Let me know what you think
Also – take a look at my new facebook page:
http://www.facebook.com/pages/Hugs-Kisses-Clothing/166702450044861
Designed and created by Hannah smith – Hugs & Kisses Clothing
Categories
2 Replies