Polka Dot Burda Silk Blouse 04/2011 #105
Added Feb 17, 2016
by shibz
, Australia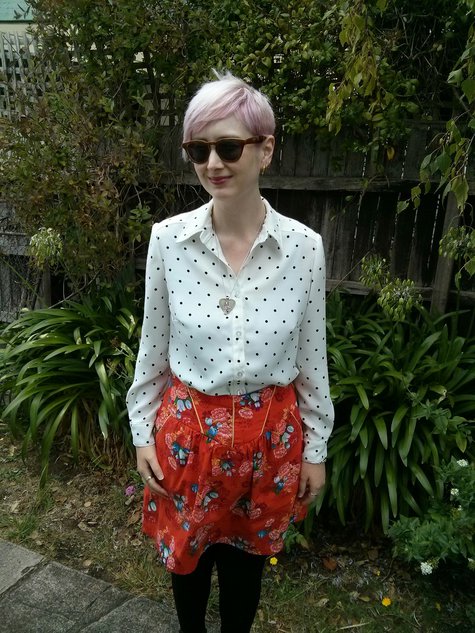 ShareThis
Description
I had in my mind the idea of a slouchy, polka dotted shirt. After unsuccessfully trying to fit Grainline's Archer and the Sewaholic Granville, I turned to this pattern (Burda Silk Blouse 04/2011 #105). I made a few style alterations, namely, converting the right fold over button placket to a separate buttonband, altering the sleeve to be pleated into an angled cuff with a continuous bound placket, and adding a back pleat for a less restrictive fit. All my fit and style alterations are detailed below.
The fabric is a beautiful satin back poly crepe which unfortunately proved a little tricky to cut. Those dots wanted to slide all over the place so I cut the pieces single layer, in between two layers of paper after ensuring the pattern was straight. A few pieces had to be cut again as the dots were slightly off grain. It refused to take a press so folds were basted in place. The plackets were easy to construct thanks to this tutorial: http://buzzybeesworld.blogspot.com.au/2010/10/tricks-of-trade-continuous-bound-sleeve.html
Changes made to a 40 bust / 44 hips:
- changed right button placket to a separate buttonband
- shortened and widened sleeve, finished with a continuous bound placket and angled cuff approx. 27 × 9cm finished
- cut longer by following pattern piece for dress (maybe 6cm?)
- 13mm forward shoulder adjustment, moved sleeve cap forward 13mm to match
- took some ease out of sleeve cap by narrowing and shortening approx. 6mm (there was a lot of ease!)
- slashed and added 1cm vertically to front piece at bust; this made bust dart wider, I also lowered apex 8mm from original position
- 12mm swayback adjustment
- for broad back/more movement in arms:
– let out side seam and sleeve seam 5mm at underarm
– drew back armscye and sleeve cap approx. 5mm wider
– added 5cm to CB piece, tapering to nothing at hem; this became a box pleat under the yoke
Material Notes
2.5m x 147cm wide vogue satin backed spot crepe, polyester, gift from The Remnant Warehouse for Xmas. Sheerweft interfacing. 14mm fish eye buttons from M. Recht Accessories.
Categories
Feb 18, 2016, 06.34 AMby izbott

Feb 17, 2016, 10.02 PMby janene

Feb 17, 2016, 10.08 AMby RashaT