Polar fleece jackets
Added Jan 6, 2010
by Anna Nguyen
Austin, Texas, U...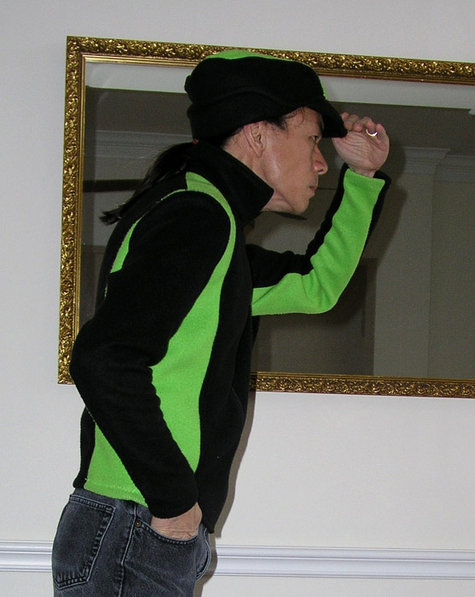 ShareThis
Description
I have been meaning to make something from polar fleece for the longest time, and finally got around to it this past winter, spurred by the unusually low temperatures here in Texas.
I made a pattern from a Limited Express jacket (second-from-last photo) that fits me well, using David Coffin Page's method ("David Page Coffin Shirt Making Lesson, Threadbanger" http://www.youtube.com/watch?v=YRLCHj2mDFE&feature=fvw&fmt=18 ). I added extra seams to the jacket panels.
---
Here is what I learned working with fleece:
---
Side and nap:
There is no "right side" or "wrong side" with fleece, nor is there "nap" (that I know of), but you still need to pay attention to sides & direction so as to be consistent. I use a safety pin to mark "right" side & "top" of a piece of fleece. The side with the safety pin is the "right side". Since I am right handed, and I always put the safety pin in the same way (from right to left), I regard the "top" of the piece of fleece to be always to my right. Also, add a scrap and note the type of fleece, because many polar fleece look & feel alike! (Next-to-last photo.)
---
Thickness:
Since fleece is fluffier/thicker than normal fabrics, remember to allow for more ease. A pattern made in normal fabric that fits just-right will turn out to be slightly too tight when made from fleece. Also, allow more room in seams for French seams or mock French seams and for turning inside corners.
For "lining" made from polar fleece, just overlap edges & stitch instead of stitching right sides together; this also reduces bulk in the lining.
---
Edge finish:
Polar fleece does not fray, at all, so there is no need to finish edges!
---
Stretch:
Polar fleece stretches more readily so it's much easier to ease, for example, when easing sleeve cap to armscye.
---
Hems:
For the first two jackets (pictures above), I just turned up the hem & zig zagged. For a third jacket which I made as an Xmas present for my brother (last photo), I added clear elastic in the hem, under the zig zag, to help the hem maintain shape as the garment ages. I also added an outside breast pocket, with a single placket.
Material Notes
polar fleece
polyester thread
plastic separating zipper
clear elastic (optional)
Difficulty
Intermediate
Categories