PJ party all around
Added Jan 4, 2011
by loyl8
Wauwatosa, Wisco...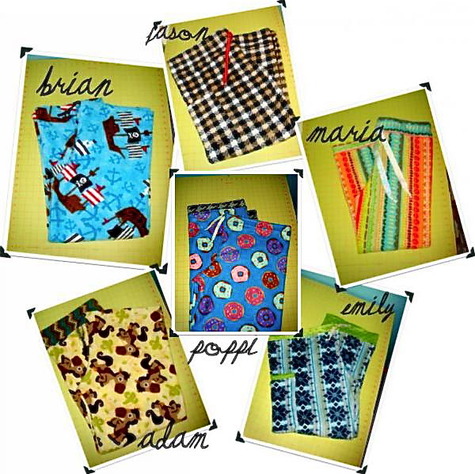 ShareThis
Description
I made all these pajama pants for family for Christmas. I think I made them in one night too. They are really easy to make and soo needed right now. I used fleece for all except Emily's pair I used ultra cuddle and a fuzzy green dot fabric (reminds me of monster fabric). Jason and Emily's have a side pocket on them. My favorite pair besides mine is Poppi's with the donuts and houndstooth bottom. I made my own pattern and adjusted as I see fit for each person.
Brian= Husband
Adam= Brother in law
Jason= brother
Emily= brother's girlfriend
Poppi= Grandpa in law
Maria= ME
For my pj's I made the bottoms with the Cynthia Rowley twill tape and coral piping. I made the top off a whim and it turned out ok. I added (not really needed after was said and done) elastic pre-smocked fabric for the back, striped t-shirt fabric from the front bottom and is attached to scalloped elastic, and for the top is double layer floral flannel with cordinating fleece straps to the pants. I let the top come together as is did, no pattern was needed.
p.s. I really wanted to make some of them footie pj pants but didn't have the time. Maybe next year.
Material Notes
Fleece, ultra cuddle, green fuzzy fabric, Cynthia Rowley twill tape, homemade and store bought bias tape, thread, floral flannel, pink/white stripe tshirt fabric, lingerie scalloped elastic, pre-smocked fabric.
Difficulty
Novice
Categories