...Pirate! Captain Jack Sparrow Costume
Added May 16, 2011
Pascagoula, Miss...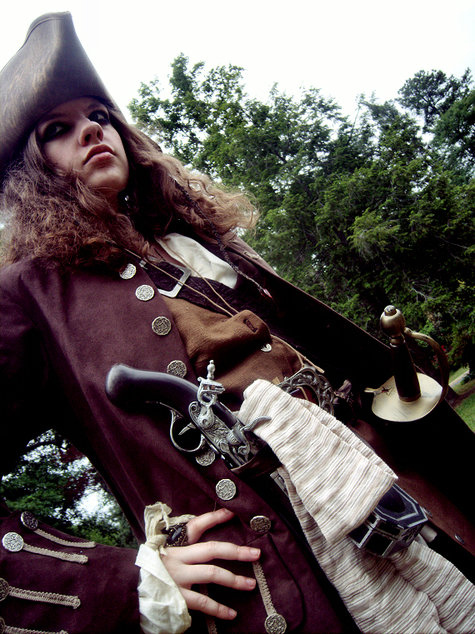 ShareThis
Description
In 2007, I was Captain Jack Sparrow from Pirates of the Caribbean for halloween. It was the first pattern project I'd ever finished. It's not exactly like Jack's outfit, but it's pretty close. If I made it again, I could make it waaay better, but oh well.
I used the Simplicity 4923 Pattern Vest(sz. Medium), Coat(sz. Small), and Shirt (sz. Small). Cutting out the fabric took a while, since the jacket fabric was suede with a DEFINITE nap. But I took my time with it and acquired my mom's help, and all the naps go the right way. There are several bad mistakes since it was my first clothing project. Such as the plackets on the sleeves both being turned to one side instead of opposite sides (didn't notice that until the buttonhole was already stitched—oops!). I didn't exactly know what I was doing with the vest, either – because it involved a lot of sewing and turning inside out and back side in… etc.
On the jacket, I made the faux-buttonholes from the wrongside of upholstery piping. I used the rough, burlap-type woven part folded in half, after I had ripped off the silky cording side. Also, the swordhilt I made had a colorful history. I got it for $1 in Clearance at Party City, in the form of a gun-holster from a Cowgirl costume. It was made of shiny bronze pleather and so I sewed on some textured brown felt and a buckle (that I distressed on the concrete) to make it look authentic.
Okay, I know that the fabric for the fabric sash is not right. I wanted the red and tan cotton ticking fabric for it (like in the movies), but they didn't have it in the fabric store at the time. So I went with a tan striped fabric that was as close as possible. It was a clearance remnant though, so it was to short to cut the stripes vertically. I just had to settle for horizontal stripes.
I made everything except some of the accessories. The hat is my sister's, and so is the Jack Sparrow compass (which was a container for Pirates Legos at one point). The ratty handkerchief tied to my hand belonged to my Grandma. The sword replica and skull medallion replica I bought for myself. I bought the pistol from the internet, but painted the orange end-cap black and smudged black paint in the cracks of the silver design to make it more gritty-looking.
Material Notes
Jacket – 4 yards brown suede, 27 (!) 1" buttons, 2 yards upholtstry trim, thread.
Vest – 1 1/2 yards brown linen-look fabric from Mom's stash, 1 1/2 yards brown lining fabric, 2 yards interfacing, 13 5/8" plastic silver buttons, thread.
Shirt – 3 1/2 yards cream natural muslin, 1/4 yard interfacing, 2 7/8" buttons, 1/2 yard of 1/16" cotton cord, thread.
Other – 1/2 yard striped cotton for sash, 2 textured felt squares and buckle for hilt. 2 "Cowgirl" costume belts for hilt/belt.
Difficulty
Intermediate
Categories
Credits
Photographer

Allison M.