Pet Microorganisms
Added May 22, 2010
by ashchaser
Nashville, Tenne...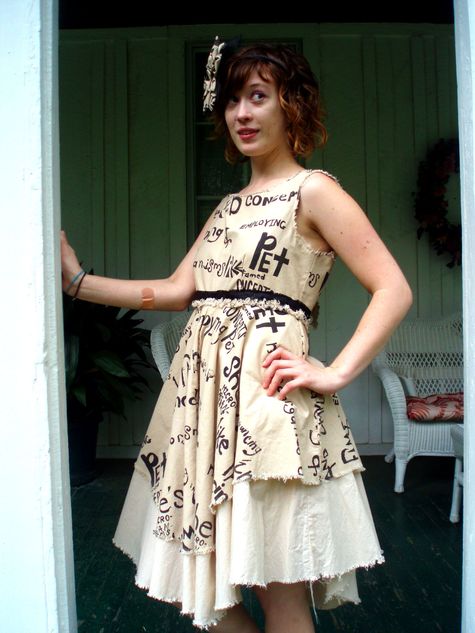 ShareThis
Description
This frock was a work in progress from early Februrary to the end of April for my sewing course; inspired by the collages and other work of Dadaists such as Duchamp, Tzara, Hausmann, and many others.
In order to translate the "spirit of the moment" feel of this art movement onto fabric form I created a Dada poem from a completely random assortment of words from papers. The result was a 3 line piece from which I picked my favorite sentence (She's advancing and employing pet microorganisms like famed concepts) which I then screenprinted onto 4 1/2 yds of plain unbleached muslin.
Before this project I had never before screenprinted, yet was urged to by a friend who liked my idea and also attends and art school with an amazing print lab. It took about 6 hours from start to finish, one botched screen, and every blob of black paint we could find, but it was so worth it!
The result was a very unique assortment of words that vaguely represent the collages made from newspapers, all out of my handwriting in different sizes.
Next I dyed the fabric with coffee and tea for a very long time, and then after giving up found out that a mortant such as cream of tartar would have helped precondition my material and help dye colors stick (on natural fabrics).
At the time I thought 4 1/2 yds would be enough for a 3 1/2yd dress (Vogue 1102) yet after much puzzlework and early cutting I found that this was NOT enough! Therefore I decided to shorten the giant skirt and add another layer of muslin underneath, slightly less dyed than the first batch. I was not thrilled about this change at first, yet am extremely pleased with the way it drapes, plus I would not have been able to add the secret welt pocket!!!
When putting this together I was supposed to make it appear deconstructed, so made all but the side seams right side out and frayed them. To achieve this "messy" look I seam ripped for hours, and it probably would have taken less time to finish them properly, but the effect is AWESOME.
Lastly I added a frayed black ribbon to break up the waistline, and created a fabric flower from the printed muslin.
I may sell this on Etsy or not, I have not decided, but for now I will be wandering around in it smelling flowers and possibly skipping.
Material Notes
Plain unbleached muslin was screenprinted with a design I hand drew out on transparencies, burned into a screen, and printed in a checker pattern first to avoid messups. Without the teaching of my friend Patrick Fields I would not have been able to achieve the great aesthetic of this fabric, and am so thankful for the new skill!
I would very much like to use this process in the future to create more custom prints.
Difficulty
Advanced
Related Techniques
Categories
May 24, 2010, 09.52 AMby msgems

May 23, 2010, 11.04 AMby keren

May 23, 2010, 03.11 AMby rifka