Perspex Wrist Armor
Added Aug 11, 2012
Somewhere, Ireland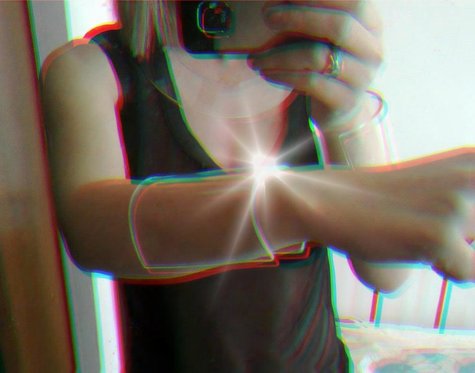 ShareThis
Description
You probably came across with the recent transparent hype and seen a lot of these transparent accessories and clothing over the Summer. Well, let me tell you I am terribly addicted to show off my good bits in a ladylike way. I have few projects of transparent items and will be posting them in time but let me share with you these bad boys.
You will need to get some perspex from your local hardware store or alternatively from ebay :
You will need a 20*30cm sheet or smaller if you want a narrower version of the armors. Mine is 15*10cm
In order to cut the rectangle shape out of your perspex sheet you will need a stanley knife and a ruler.
Place the ruler across your sheet lengthwise in the middle and carefully carve along with your stanley knife a few times to get a carve or imprint in your perspex sheet. once your done with that you want to snap the sheet into half. To do that I would suggest to place your sheet on the edge of a square table place your carved part on the edge directly and snap it off by pressing down your sheet on side. I used a towel under my sheet to prevent scratching. It will snap like me if you stare at my nose too long…:)
Once you have the too even pieces pre-heat your oven to 180-200°C or so, place the pieces onto a flat tray and leave them in the oven for less than 5 minutes 4 will do just fine. You have to work quickly very very quickly in fact. Once the perspex is bendable you have to shape them almost immediately. What I did is I placed the first sheet in the oven and after 4 min I took it out and thrown it over a rolling pin and it actually molten over it like a cuff. Perspex wont melt bot you get me right?
You can shape it for 30 sec and than it hardens and you wont be able to shape it anymore but you can start the process again if your not happy with your shape..
Repeat it with the second piece.
NOTE*
Heated perspex is extremely hot but it isn't sticky but you have to take precautions and use kitchen glows or anything like that to prevent burning your skin!
Perspex is made from stuff that isn't good to your health so please do not use the tray or the pin after you melted the perspex over them. I'm not a health expert but I heard it can be bad for you.
The edges of the armors can be sharp and you don't want to cut your arms so use a nail-file to soften the edges…go easy on them not to scratch the surface around the edges :)
*Disclaimer
This is merely an idea not an invitation all responsibilities are yours. You are responsible for yourself and for the safety of others.
Love
Material Notes
Acrylic Perspex
Stanley-knife
oven tray
rolling pin
Gloves
Difficulty
Novice
Categories
For

Garment Type
Credits