Pep it up
Added Oct 13, 2011
New York, New Yo...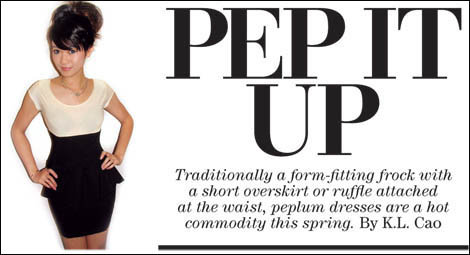 ShareThis
Description
THE PROJECT: 
PEPLUM DRESS
What you'll need:
45 cm (½ yd) OF A CREAM-COLOURED KNIT
90 cm (1 yd) OF A BLACK-COLOURED KNIT
PINS
SCISSORS
A BASIC TANK TOP PATTERN
A BASIC SKIRT PATTERN
TO MAKE IT:
STEP 1: To make the top, use a basic tank top shape as a pattern, and cut out two pieces from your cream-coloured fabric, both on the fold. Place pieces with right sides together, and sew up the side seams.
STEP 2: Use a simple sleeve pattern for the sleeves of the shirt. Cut two cap sleeves on the fold, and sew the bottoms of the sleeves. Match and pin the sleeves to the sleeve openings, and sew each sleeve so it's attached to the shirt. Finish any raw edges.
STEP 3: To make the waistband, cut a piece of the black knit that's roughly 12.5 cm (5″) in width, and long enough to fit around your waist. Fold it in half, right sides together, and sew. Pin the waistband to the shirt and sew all the way around.
STEP 4: Cut out a simple skirt pattern for the skirt, and sew up the side seam. To make the peplum, fold the black knit in half. Cut a piece of thread the length of your peplum—but add 5 cm (2″) so you have some room to play with. Attach a safety pin to one end of the thread, and chalk to the other end. Pin the safety pin roughly in the centre of folded fabric, on the fold. Swing the chalk around like a pendulum with thread extended at full length, to draw a semicircle on the fabric. Cut out the semicircle. Mark and cut a small semicircle the size of the waistband on the fold.
STEP 5: Attach the skirt to the peplum and waistband, then sew everything together. Hem raw edges, and you're done!
Categories
Credits
written by

K.L. Cao

originally published on
0 Comments