Peacock Rescue
Added Sep 21, 2010
London, United K...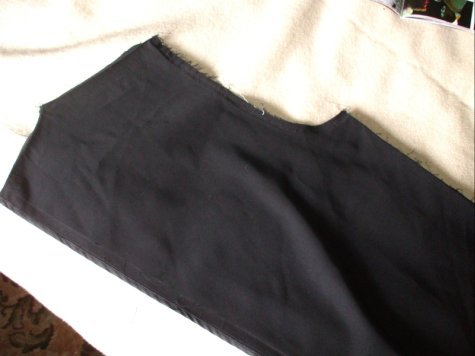 ShareThis
Description
This skirt was a charity shop reject item with the waist held together only by heavily decayed black elastic; the "St Michael" brand on the Marks & Spencer's label indicated that it was at least ten years old, and possibly a lot more. But the shimmering peacock blue colour was gorgeous, the woven pattern intricate, and the info on the label revealed that in spite of the clumsily elasticated waist it had in fact been sized for only a 34" hip measurement, with the pleats hanging from a subtly shaped yoke. I felt that the skirt could potentially be saved for a new lease of life.
There was no way I could match the colour of the fabric, so I opted to create a contrasting black waistband using a panel from another scrap garment, a decayed man's jacket. The raw edge of this proved to be neatly bound down with ribbon inside the seam, so I simply cut a 4" strip off the bound edge of the jacket panel, unpicked the elastic (the nastiest job), stitched the cut edge of the black band to the exposed edge at the top of the skirt, doubled it over a length of thick stiffening, and hemmed the ribbon-bound edge down onto the inside of the skirt to cover the edge of the lining. A line of running stitch along the top edge of the waistband secured the stiffening in place.
I then sewed the old waist fasteners back on, although I had to add an extra popper to hold the overlapping end of the waistband down. (I still haven't got the hang of doing this properly; there has to be a better way.)
Hey presto! and the 'old lady skirt' is revealed in its true colours once more; a high-waisted, trimly fitted yoke and a stunning fall of vivid blue folds that flow and sway as you turn to catch every eye….
I'm very pleased with this one. I like to think that the original owner loved it too, and that she hung onto it long into her (and its) old age.
Material Notes
The skirt material is "100% nylon polyamide". The waistband is made from men's suiting fabric, with a fair amount of artificial fibre (judging by the scent when I pressed it cautiously with the iron….)
Difficulty
Novice
Categories
0 Comments