Patterning Paper Bag Pants
Added Aug 31, 2011
Portland, Oregon...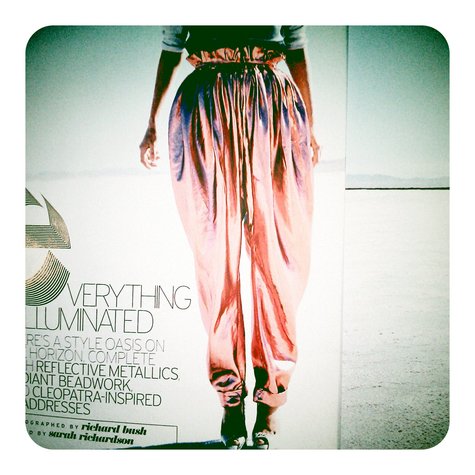 ShareThis
Description
I've been staring at these shiny cotton candy paper bag waist pants for many months. The image comes from Elle magazine's, "Everything Is Illuminated" fashion spread (Feb. 25, 2009). The metallic pants are from Chloe, priced at $1,395. I wanted desperately to create a pair for myself for Fall. I started by pinning muslin and fashion fabric similar in look and weight as what I imagined the magazine pants to be on the dress form. The exaggerated bunched waist definitely needed lots of room and extra waist fabric to create such exaggerated folds.

Next, I took my basic trouser pant sloper and re-traced it onto fresh white paper. Then I started slashing and spreading from the hem to the waist to determine how much extra room I needed to create the paper bag effect. I also added about 5" to the waistband so that I could do my basting at 3" below the waist, creating the paper bag folds above the scrunched waist. I tapered the leg below the thigh to get as skinny an ankle possible. In the photo, they also folded up the hem a few times to achieve the look of a very fitted ankle. I love the juxtaposition of the huge, gathered waist and thighs and the fitted ankle.


After slashing and spreading both front and back pant pattern pieces, I laid them onto muslin and traced my seam allowance. The muslin sample came out fairly close to what I was hoping for so I made another pair in trial fashion fabric. It is a medium weight slinky rayon blend filled with ranchmen and horses. Love it.


I'll make one more pair in the heavier weight gold fabric and for that pair, I will add interfacing to the paper bag waist to give it some standing power. And I'll probably add hip pockets… Can't live without pockets in my pants!


These can also be made by creating an elastic casing and threading 1" elastic through. For the horse pair, I used two rows of basting thread to create the gathers and put a 9" invisible zipper at the center back.


Here is the link from Elle, where you can view the entire editorial :
elle.com/Fashion/Fashion-Spotlight/Everything-is-Illuminated#mode=base;slide=0;

Material Notes
Tear-out magazine sheet inspiration, drafting paper, muslin, fashion fabric
Categories