Pattern no. 3 Waistcoat/Vest
Added May 8, 2011
by cadetdee
London, United K...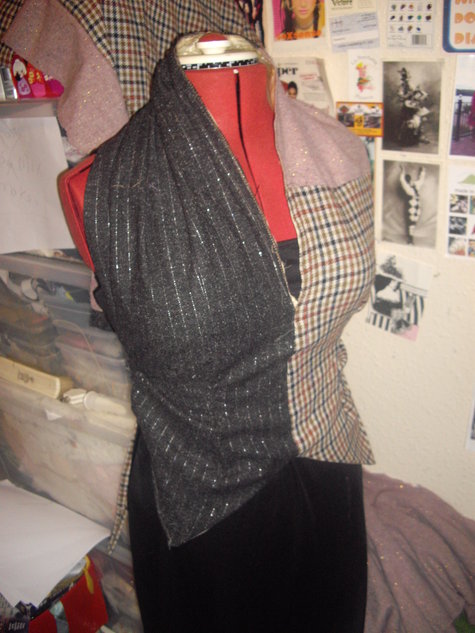 ShareThis
Description
I have set myself a mini project, I am currently working through Quick and Easy Dressmaking by Diana Crutchley in no set order, this book was printed after the TV series for BBC's Woman's Hours back in the 1950's.
The originally programmes were first shown in France called "Cours de coupe" by Radiodiffusion Television Française. The BBC bought copies, which Diana Crutchley translated the scripts and wrote the instructions for the pamphlets and the book.
The information from the Preface in the book, says that the programme was filmed live, it is known that the BBC at this time did not really keep filmed footage so it may be lost forever ;-( . The book also says there were pamphlets printed and that they sold over 100,000 copies at the time. The book itself was printed in 1958, it has 25 patterns. It's a lovely book with lots of tips and advice especially related to the time it was written, it also works straight from the cloth/fabric. Pleats tucks and even recommending that garments can be hand stitched from start to finish.
I love the quote in the Preface by Diana Crutchley "Fashion changes, but these patterns are not extreme" and when you see the designs they are not and can be worn today.
As I go I will document my efforts.
I made the Pattern no. 3 (Waistcoat) which is actually a nice pattern to get going with. The pattern is made up of two rectangles. I made mine using fabrics from two pairs of trousers and a skirt I don't wear anymore; the fabrics were so similar in weight I thought they would work well together.
I made the waistcoat so it has no front opening although I sewed a selection of buttons on the front.
I also followed the instructions and lined the waistcoat. I pleated the sides of the waistcoat which gave the garment a mock pocket effect; I added two gold metal buttons, one large and one small. I have really enjoyed making and wearing this waistcoat.
Difficulty
Intermediate
Categories