Paola Plus
Added Nov 23, 2009
By burdastyle
New York, New Yo...

Step 7 ATTATCHING COLLAR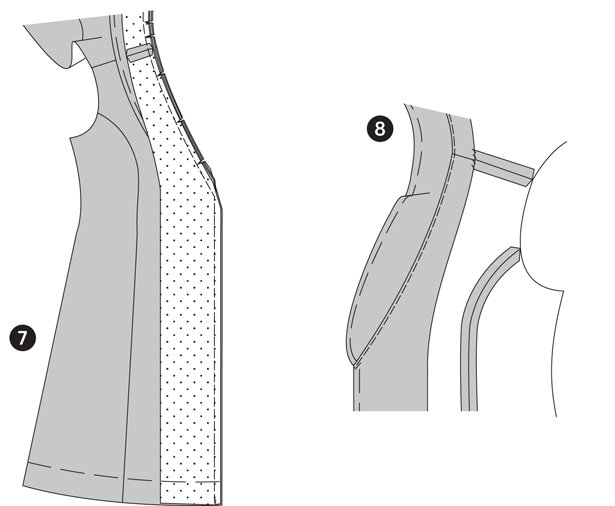 Position the top collar and undercollar together, right sides facing. Pin. Slightly push the overlapping length. Pin the edges together and stitch. Trim allowances and snip in at the curves. Turn collar and press.
Camber the undercollar and stitch the top collar using slanted staying stitch. Position the open edges together.
Position the collar on the neckline (seam number 4) and pin. The undercollar faces the front and back piece and the cross lines meet the shoulder seams.
Position the placket on the front edges and on top of the collar along the neckline. Shoulder seams meet. Stitch, enclosing the collar. Neaten allowances and snip in.
Fold the placket inside, pin and press. Position the collar inside the neckline. Topstitch the neckline along the collar seam line narrowly. Sew the placket by hand onto the allowances of the shoulder seams.
0 Comments on Step 7
Patterns for this Project
Produced by BurdaStyle