Padme Amidala Star Wars Outfits for Barbie
Added Jul 8, 2011
Pascagoula, Miss...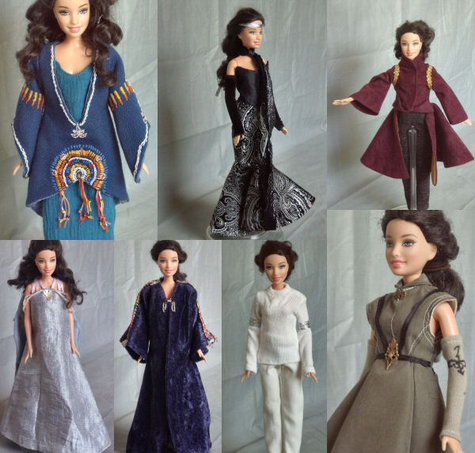 ShareThis
Description
Besides my Leia Skywalker Barbie outfits, I have also made several Padme Amidala costumes too. I remember watching Episode I: Phantom Menace when I was 8, and obsessing over the cool costumes. I didn't see Attack of the Clones or Revenge of the Sith until about a year ago when I rediscovered my childhood love of Star Wars: but I totally love Padme's beautiful clothes in them. I had probably more fun making these doll costumes for my little sister than she has playing with them.
I'll go through each one individually.
1. Blue/Teal Tatooine Dress from Epi II: Attack of the Clones. This was the most labor-intensive of all the costumes. I hand embroidered all of the designs on the overdress. It took three days, but it was worth it because I love how closely it resembles the original. I used blue wool for the overdress, and lined it with periwinkle blue crushed polyester. I made the underdress out of teal crinkle gauze.
2. Naboo Black Corset, Arm Warmers, Scarf, & Fishtail Skirt from Epi II: Attack of the Clones. The corset is made of stiff poly-silk (which I thought looked like a scale version of leather). The arm-warmers are made of double-stretch velvet scraps. The scarf is a strip of mesh silver/black fabric. The skirt is black and silver sari-brocade, and hem with dark brown single fold bias tape.
3. Mustafar Sleeveless Suede Top, & Arm Warmers from Epi III: Revenge of the Sith. This was complicated to make, but so fun. I made the top out of taupe microsuede. I used real metal filigrees for the "clasps" on the top, and black 1/8" ribbon for the "leather straps" (mostly because I didn't have brown on hand). For the arm warmers, I used taupe stretch knit, and I hand-drew the Naboo symbol on the left one with a black fabric marker.
4. Cream Geonosis Top & Pants from Epi II: Attack of the Clones. This could have been made better, but I didn't have the right type of knit for the top and I had to just make do. I machine stitched the rectangles-design on the bodice and sewed two rows of 1/4" silver trim on the sleeves for the metal armbands. The pants are made of cream stretch microsuede with an elastic waist.
5. Purple Coruscant Robe from Epi III: Revenge of the Sith. I used panne velour for this one. The trim on the sleeves was a real find because it is really close to a scale version of the original. I hand-beaded the tassels with seadbeads. The robe closes in the front with a hook & eye.
6. Steel Blue Silk Nightgown from Epi III: Revenge of the Sith. I used a blue silk-blend for this nightgown. The front has white ribbons straps and a triangle ornament (a shell jewelry spacer) on it. The back has a serged drape, fastened together with bead-tassles. I used fishing line to string the pearl bead arm-drapes on to the bodice, so they wouldn't break. Overall, I like how it turned out.
7. Burgundy Battle Coat from Epi I: Phantom Menace. I made this coat out of burgundy poly-suede. I sewed a 1/4" gold metallic trim to the armholes. The skirt is lined with gold silky fabric (even though it's supposed to be a crimson color). I could have made it a little better, but I still am pretty happy with it.
Material Notes
Various scraps of fabric, snaps, hook & eyes, sead beads, embroidery floss, 1/8 – 1/4" satin ribbon, metal filigrees, trims, elastic, velcro, fabric marker, 1 shell jewelry dangle, fishing line, single fold bias tape.
Difficulty
Advanced
Categories
For

Garment Type

Style

Material
Credits
Thanks

to my sister Allie for the use of her doll!
Jul 12, 2011, 04.44 PMby tsedai