Orange + blue ensemble
Added Apr 23, 2011
by olystyrene
Sydney, Australia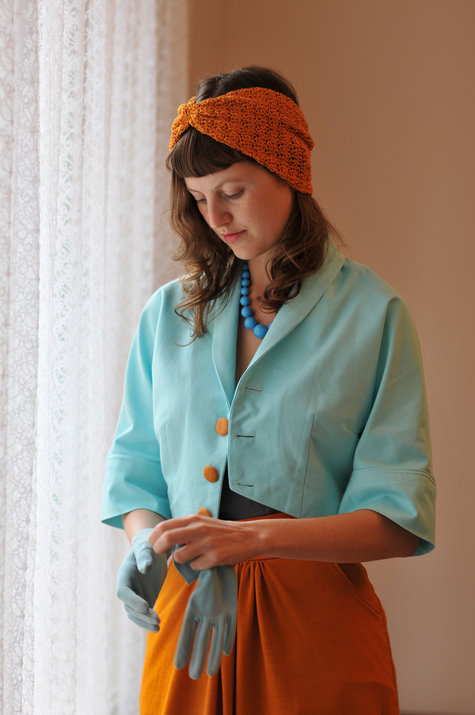 ShareThis
Description
Oh Burdastyle, how I have missed you! Many months after the start of the new year, I've decided to start showing you some love again. So here's a little something I've been working on…
This ensemble consists of:
- 40's style drape skirt
- 50's shortie jacket
- 40's turban and muff handbag (crocheted)
I guess I'll start with the skirt…. No pattern was used here, but I wanted to create a skirt that encompassed both 40's and 50's sensibilities. I constructed a basic skirt block and went from there – double back darts, front drape and pockets, wide waistband and front pockets. All very straightforward, to be honest. I fiddled a little when it came to shaping the skirt (it tends to take on a slight A-line shape when the drape was included), tapering it to get a straight down sort of shape. The fabric was something I picked up in an op shop. I noticed AFTER I'd cut the pieces, that there were a few holes in it too. I ended up darning these with a similarly coloured thread (which made me feel like a happy grandma). I got a chance to use my new twin needle to do the hem as well, which was an excellent choice, for the very stretchiness of the fabric.
The jacket was made using a 1950's pattern – quite straightforward too. In the past, I've made other 50's jackets which had weird, complicated, roundabout ways of configuring the collar, but this one was just so "no nonsense", I really enjoyed it! The back of the collar and the back hem both come to a point, which is just a tad delightful. I used the twin needle again here to finish the tops of the sleeve cuffs, to much delight. And, of course, as is my usual choice, there are 3 contrasting vintage fabric buttons at the front – orange to match the skirt!
The turban and muff bag were the natural accessories to match the skirt and jacket, I think. Again, found the beautiful lustrous orangey yarn in a second hand shop. It's so gorgeous, with a golden sheen to its mandarin base colour; I just fell in love wit it right away! And it's also really soft and not at all scratchy! The turban was something I've made many times before, classic in shape and fit. The muff bag, however, sorta kinda almost nearly killed me!!! I was using a vintage pattern, which I found difficult to follow. After (literally) hours of trial and error, undoings and redoings, I finally figured it out; and was extremely pleased with the result! It has a main pocket, which is attached to the section where the hands slide into, as well as an additional pocket on the back, which closes with a zipper. The entire thing was lined and made with painstaking patience and precision. So I'm a little bit proud of this one :) The nice big chunky crocheted bow was my special touch…
All in all, this is was an involving project but I'm just so pleased with the colour combinations and details of all the pieces. It also fits so nicely with the current season here in Sydney (autumn) :)
Material Notes
second hand cotton drill, second hand synthetic stretch fabric, vintage yarn, vintage buttons, zipper
Difficulty
Advanced
Categories
1 Reply

May 9, 2011, 03.41 AMby elenay

1 Reply

1 Reply

1 Reply

1 Reply

1 Reply

1 Reply

1 Reply

4 Replies

1 Reply

Apr 26, 2011, 07.58 AMby nessys

1 Reply

1 Reply

1 Reply

1 Reply

1 Reply

1 Reply

1 Reply

1 Reply

1 Reply

1 Reply

Apr 23, 2011, 08.27 AMby loyl8

1 Reply

2 Replies