Operation: Puffy Pants v. 1.0 (Tonia Toile)
Added Nov 27, 2012
Monterey, Califo...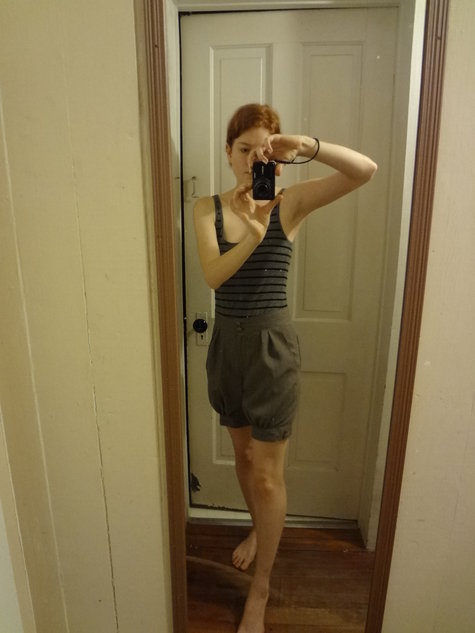 ShareThis
Description
Here is my preliminary version of the Tonia shorts- being very new to sewing still, must admit to spending an ungodly amount of time making these, and plan to spend an even longer amount of time on my second pair (wool with china silk lining- yikes!). Am feeling a bit of a Renaissance/Conquistador/Knickerbocker/General Historical Fluffy Man-Pants vibe with these, and am ridiculously pleased. I'm also sure that all of the mistakes are extremely visible to those of you with lots of sewing experience.
I made some changes to the pattern. First, I added 3/4" to the waistband and eliminated the belt loops. I wanted to have a lining (mostly to test out the pattern/technique for the wool pair, which would be itchy without one), so I turned the pleats on the front piece into darts to take out the fullness. Also wanted the pockets to be made of the lining fabric to reduce bulk, so I split the hip yoke piece into two parts, the inner part and the part that shows, added a seam allowance, and stitched the two together, then proceeded according to directions. I added a second buttonhole (both are bound), and copied Oranereuland's Lucha Libre shorts project with the two self-covered buttons on each leg band (covered the metal dome in sticky-backed felt first, to keep the metal from showing through).
Overall, tried out a lot of new techniques on this project, including stripe-matching, hand-overcasting (to finish some of the inside seams- not visible in any of these pictures, which is a very good thing), lining, bits of pattern drafting, pattern grading (needed to combine size 32 and 34), zipper installation (definitely need more practice), bound buttonholes, and more.
Apologies for the photo quality- just finished this project moments ago and had to share it RIGHT NOW.
PS- Almost forgot! The puffiness of these shorts is not entirely due to the pattern- I made the cuffs smaller, which left much more leg fabric to gather. I also gathered it entirely in the front, unlike the line drawings.
Material Notes
Cheapish polyester suiting, bemberg rayon lining
Categories
This project is based on
Make it