Nougat dress, variation #1
Added Aug 18, 2013
by anajan
Belgrade, Serbia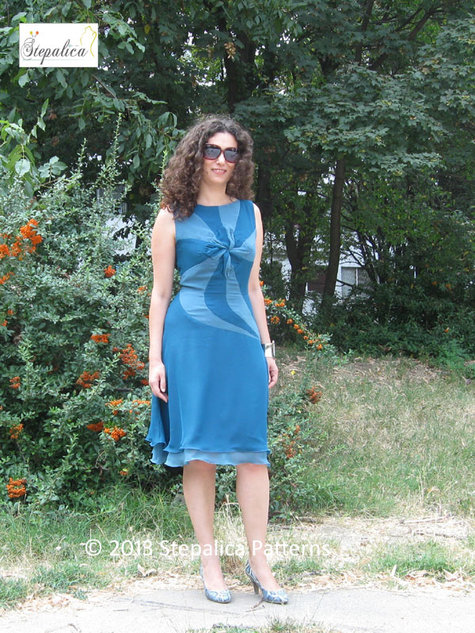 ShareThis
Description
I am launching a new line of sewing patterns, called Stepalica Patterns
This dress is an original version of the Nougat dress series (variation #2 and variation #3) I've been posting over here.
Bellow is a pattern / dress description. For more details about the pattern and purchase options, please visit my blog Stepalica
Nougat is an elegant and feminine dress, with a fitted bodice, flared skirt and asymmetrical waist yoke. It is given in three variations to accommodate different sewing skill levels.
Views A and B are intended for those who like sewing unusual, challenging patterns. The twisted diamond on the bodice is an eye catching detail that adds some drama to this flowy dress. If you're in the mood for "sewing a puzzle", view A gives you all the elements you need – numerous pieces (the shell consists of 44 pieces!) to assemble and seams to match. Use fabrics in contrasting colors or prints for the best visual effect.
View C is intended for the ones with less patience or skills. But have no worries, the unusual seaming and bust darts on the front will result in an interesting dress.
Nougat makes a perfect special occasion dress. With a blazer or cardigan, it easily transforms into an office-appropriate garment.
Sizes: 32 – 44 (all sizes are included in one pattern)
Skill level:
View A, View B: advanced
View C: intermediate
Difficulty
Advanced
Categories