Nora
Added Apr 6, 2009
By burdastyle
New York, New Yo...

Step 11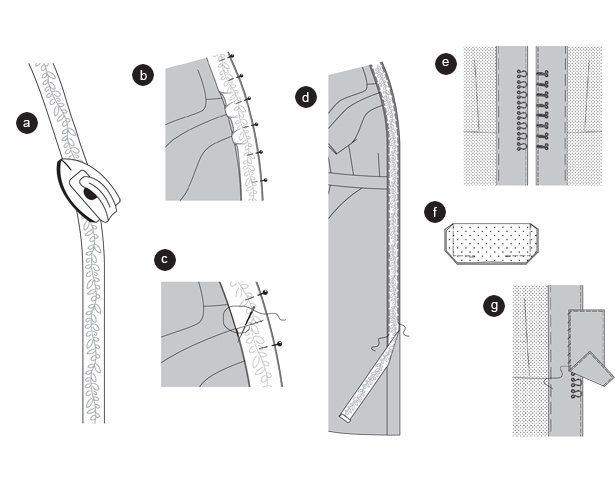 LACE
Apply the lace all the way along the placket. To adjust the lace to the neckline, slightly press it into form. Test it in advance (a).
If the lace cannot be pressed, pin it to the outer edge of the placket. Along the seam line, the lace will then be too loose. Gather this extra width or stitch a little dart on the lace, sew by hand (b).
Pin the lace. At the hemline, turn the edges inside. Either topstitch the lace edges narrowly (d) or sew it by hand ©.
HOOKS AND EYES
Tip: Apply the hooks and eyes so that they are invisible. The placket edges should meet if the dress is closed.
Apply 8 hooks on the inside of the right placket (above the waist line) between the cross lines for the underlap. Accordingly, apply 8 eyes on the inside of the left placket (e).
UNDERLAP
Fold the underlap along the fold line, right sides facing. Stitch the edges together according to the image. Leave an opening. Trim allowances and cut the corners at an angle. Turn the underlap and press the edges. Topstitch the underlap edges (f).
Pin the underlap _" (1.5 cm) wide on the wrong side of the left placket, between the cross lines. The underlap then covers the eyes. Sew the underlap by hand on the placket (g).
0 Comments on Step 11
Patterns for this Project
Produced by BurdaStyle